Foundation Learning (Skills for Life)
Why choose BMet for Foundation Learning (Skills for Life)?
Foundation Learning courses available at Matthew Boulton, Sutton Coldfield and James Watt Colleges.
Foundation learning is the name given to courses at Entry Level and Level 1 and is a great opportunity for you to continue your education at your pace. We offer personalised programmes all aimed around your individual needs, with lots of support so you can get the most out of your course.
Courses are bite sized to keep you interested, motivated and inspired and the experience will give you a new love of learning you thought you may never have.
Prince's Trust
Aged 16-25? No qualifications? No experience?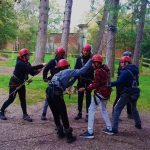 You might want to join the Prince's Trust Team Programme – a 12 week course that can help you change your life and make a difference to others.
Progression Opportunities
Most foundation learning students go on to study Level 2 and 3 qualifications in wide variety of subject areas. All of our courses involve building skills that employers want and we teach English and maths alongside everything in a fun interactive way because we know how important these skills are in everyday life.