BMet Fellowship Partnerships celebrated and rewarded at college's Higher Education Ceremony
The 2022 BMet Fellowships have been awarded to a Digital Director and two government agency managers who have each supported hundreds of students and apprentices.
Julia Von Klonowski and Helen Johnson and Ria Poliquin received their awards at BMet's Higher Education Awards ceremony yesterday (Thursday 08 December).
Fellowships are awarded annually by the college to individuals who have made an exceptional contribution to the college.
BMet Principal and CEO, Pat Carvalho, said: "Our three fellows have made a fundamental difference to the lives of our students and apprentices, by offering them experiences that they simply would not have had access to without their unwavering support.
"They have also offered valuable guidance to the college and have been able to share their industry knowledge with us, so that we can ensure our curriculum is relevant and prepares students for their future careers.
"On behalf of all at BMet, I congratulate and thank them for being such outstanding advocates for our students."
The first recipient Julia Von Klonowski – Digital Careers College Director, Amazon Web Services Digital Skills Advisor and Cyber Hub Trust Chair, has built an outstanding working relationship with the BMet team, and always go beyond the brief to support students and to showcase their work.
Through the work Julia does via the Digital Careers College and the annual Amazon Web Services sponsored competition, she ensures that BMet students have fantastic exposure to employers, industry professionals and offers support for their next steps.
The AWS (Amazon Web Services) project, in particular, has inspired BMet's students to challenge themselves, producing wonderful results.
Unfortunately, Julia was unable to attend but Fredericka McFarlane, an IT lecturer at BMet's Matthew Boulton College who has worked closely with Julia for a number of years, collected Julia's certificate on her behalf.
Speaking of her Fellowship, Julia said: "Working with BMet and their students has been a really rewarding experience.   I have been truly inspired by the creativity, passion and great work ethic of the learners that I have had the pleasure to come into contact with through various activities and projects and I am delighted to accept this award."
Joint recipients Helen Johnson and Ria Poliquin from the Science and Technologies Facilities Council (STFC) are huge advocates of BMet's apprenticeship programme and their enthusiasm and hard work ensures that students have a world class experience.
Helen, Ria and the team at STFC have created a culture of success for apprentices by ensuring every step of their journey is supported by managers, mentors and other key individuals and stakeholders.
Here is what Helen and Ria said about their Fellowship Award wins: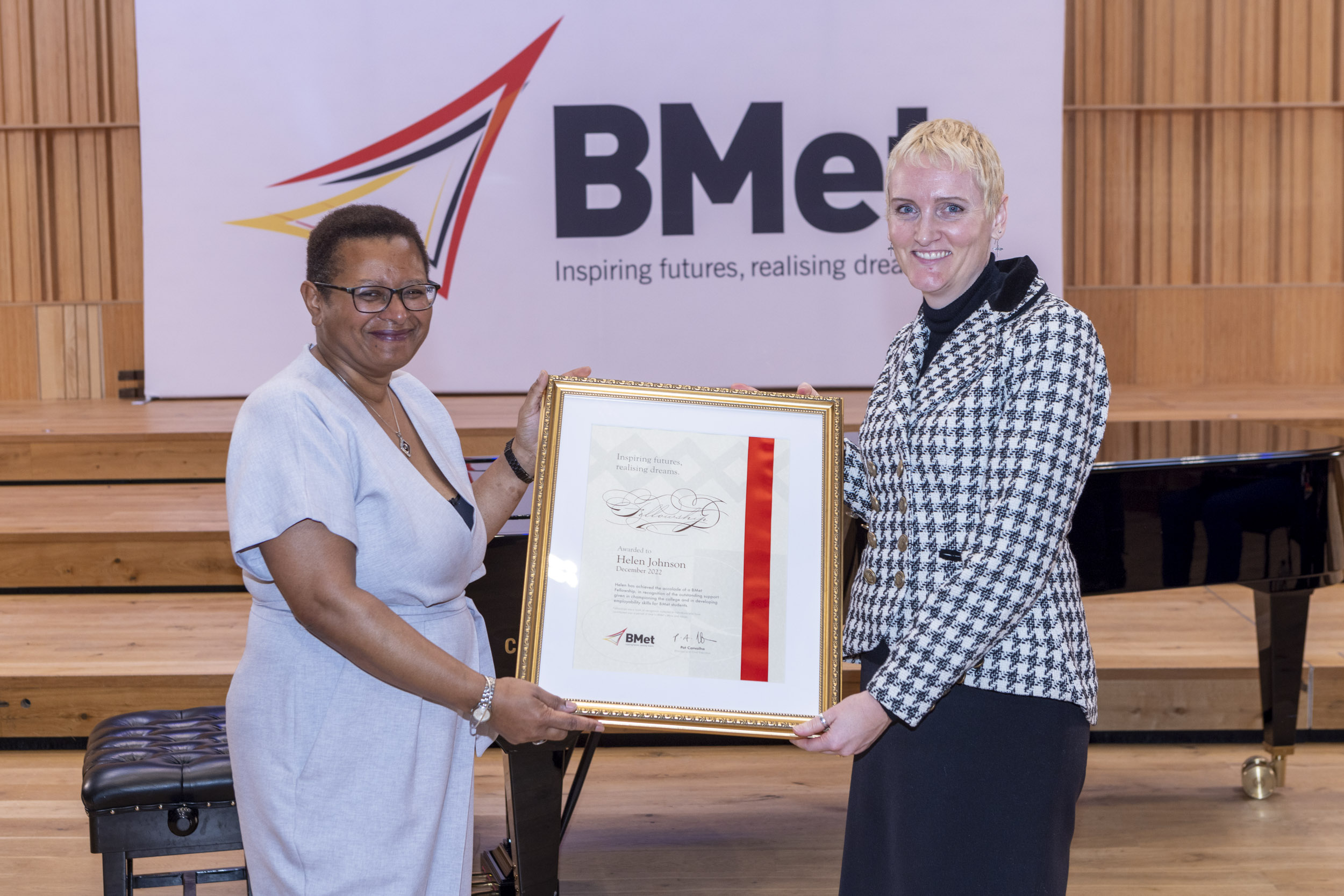 Helen: "I feel very honoured to be awarded this fellowship with BMet. I have worked with BMet on STFC's engineering apprenticeships for many years and their commitment to each individual apprentice's development is outstanding.
"I am passionate about ensuring apprentices achieve their potential and to receive this recognition makes me very proud."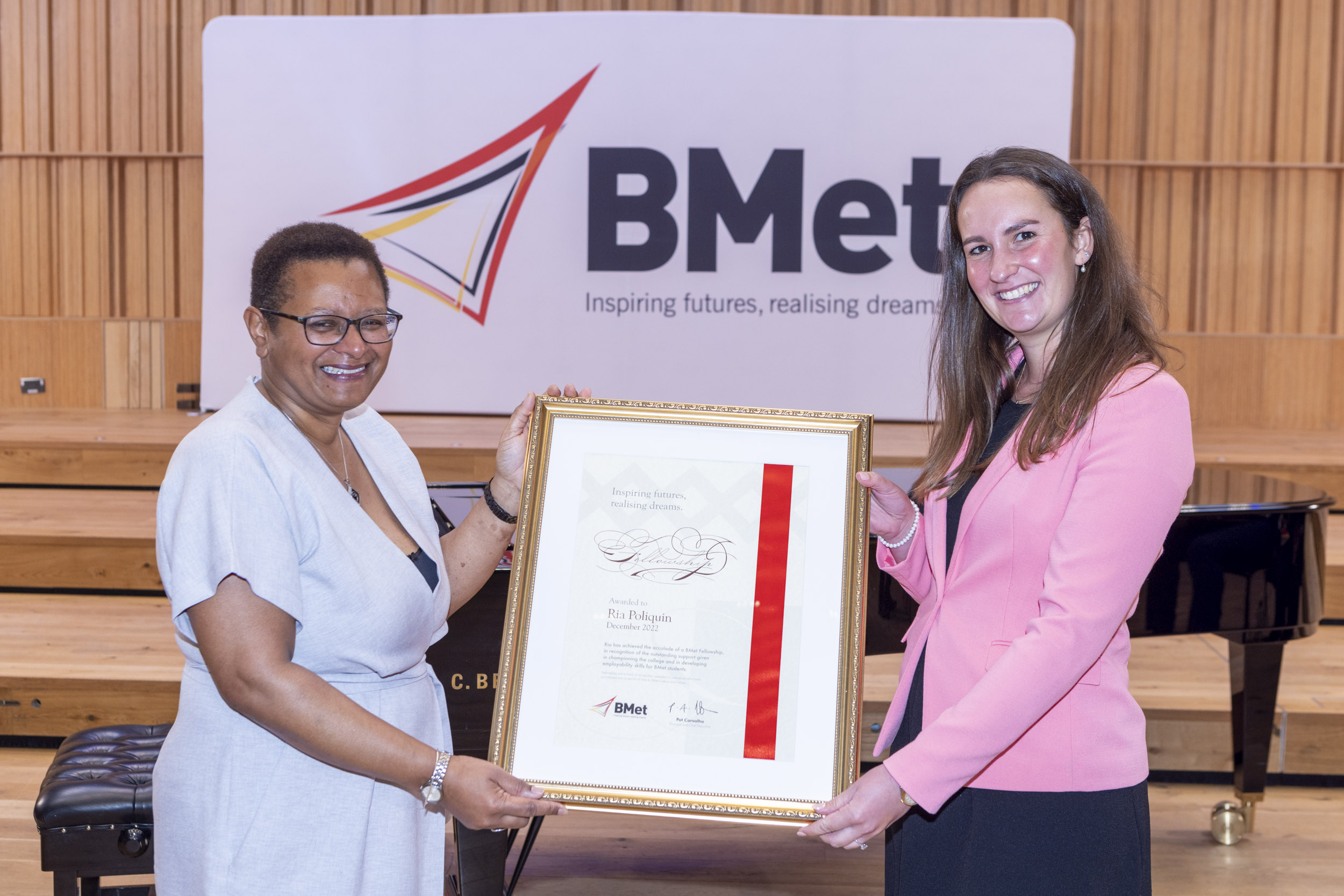 Ria: "I am honoured to be nominated for a BMet fellowship, it's great that apprenticeships are getting the recognition that they truly deserve. Universities and the traditional degree route are fantastic and absolutely have their place, but so do apprenticeships.
"In my experience, apprenticeships really shine when the employer and the training provider take the time to genuinely understand each other and work together, and that's exactly what BMet do – they really get to know the employers and the apprentices that they work with and as a result provide an outstanding apprenticeship experience for their apprentices."
To read more about the BMet 2020 Higher Education Awards please click here. You can find out more about BMet's partnerships and employer relationships, by visiting – https://www.bmet.ac.uk/employers/.