BMet art students' ideas of mental health are exhibiting at popular Sutton Coldfield art gallery
Local residents and visitors to Sutton Coldfield Town Centre, will now have the chance to see depictions of mental health in unique forms, through art created by BMet art students.
Direction Action Art is hosting an array of works including printing, sculpture and digital designed by around 20 innovative learners – from now until 20 March in a free exhibition.
It is all part of an industrial placement, which has enabled the students to work for a real employer, alongside working with the Mayor of Sutton Coldfield.
Among other things, the college participants were tasked with researching mental health challenges faced by young people – looking at the causes and symptoms, from which they developed an individual artistic response.
The Mayor met with the students, discussed their ideas and viewed their progress on three visits to the college throughout 2022-2023.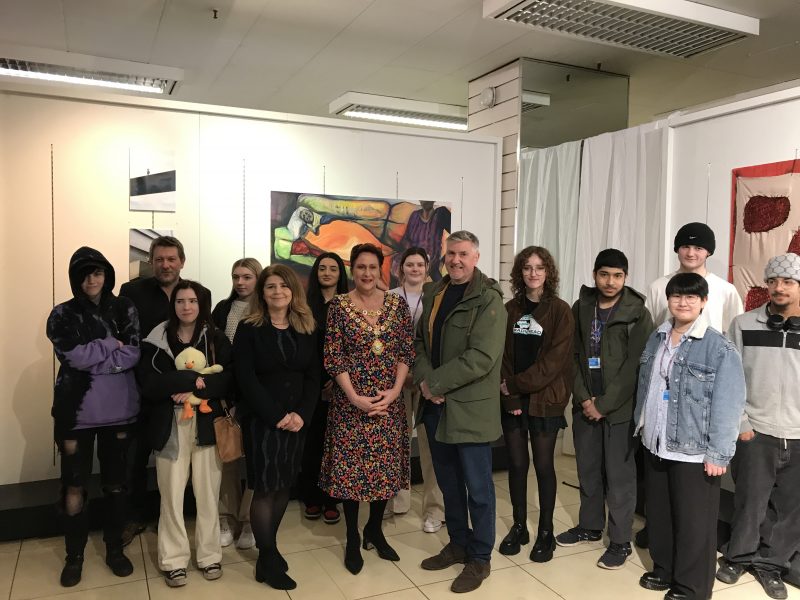 A special viewing has taken place, in which the Mayor joined students and their family and friends, to celebrate their achievements.
Foundation Art Student, Aimee, created "The Sprite" for the art exhibition. Her work can be summarised as: 'a hand drawn animation telling the story of a girl who feels out of control of her emotions and instead her emotions control her'.
Speaking of her art, Aimee said: "It is great to see my work up in such a popular gallery space, especially as I have never seen my work displayed like this before!
"I was inspired to get involved, as the topic is so important to young people and affects many. Mental illnesses leave their victims feeling numb and I decided to represent this through moving sprites controlling her emotions."
Fine Art student, Charlie is personally interested in aspects of humanity and what it means to be human. He summarises his work to 'encompass all aspects of who we are, both physically and "of the mind'.
He added: "For me, I wanted to use my subconscious mind to know where to put certain "marks and curbs". I wanted people to use their own minds to visualise what they resonated with through my work. I was able to explore and communicate the different, multiple personalities that exist within us all.
"In a general abstract sense, I hope that people can think about my perceptions and how this could relate to others. This piece was divided into multiple sections and then created over a number of weeks."
You can find out more about the mental health exhibition in Sutton Coldfield Town Centre, here: https://www.directartactionuk.com/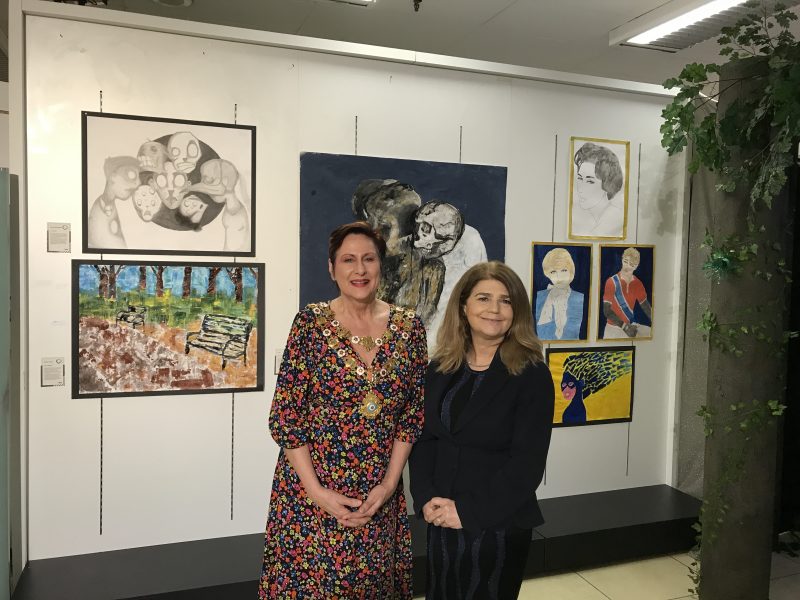 Anna Jackson, Vice Principal at BMet's Sutton Coldfield College, who attended the exhibition launch said: "We are all so very proud of the creativity and hard work of our students, who are now having their artistic talents exhibited in a highly regarded vicinity in the heart of Sutton Coldfield!
"It has been particularly heart-warming to see the smiles on our students faces when they saw their work, alongside their equally proud family and friends.
"Industry placements are such a great way for our students to explore their talents and to produce real work that serves a real purpose."
To find out more about our "BMet Work It" programme, that allows students to gain real work experiences through industrial placements, please click here is you are a student and if you are an employer click here.
To find out more about BMet's range of art and design courses, please visit art & design courses here.