BMet students given new opportunities and another chance of success: following positive GCSE results
Hundreds of learners studying GCSE's at BMet are one step closer to realising their dreams and seizing their career goals today after receiving rewarding results.
GCSE Results Day marks a very special day in the college's calendar, as it is the chance for students – many of whom have taken their GCSE's later on in life, to embark on new opportunities and have another chance of success, following positive grades.
To mark the occasion, some excited and nervous students came into BMet's James Watt, Matthew Boulton and Sutton Coldfield Colleges – which offer GCSE courses to many learners each year – to find out their results and celebrate the important occasion with friends, family and teachers. It was also a chance for students to enrol on courses starting in September.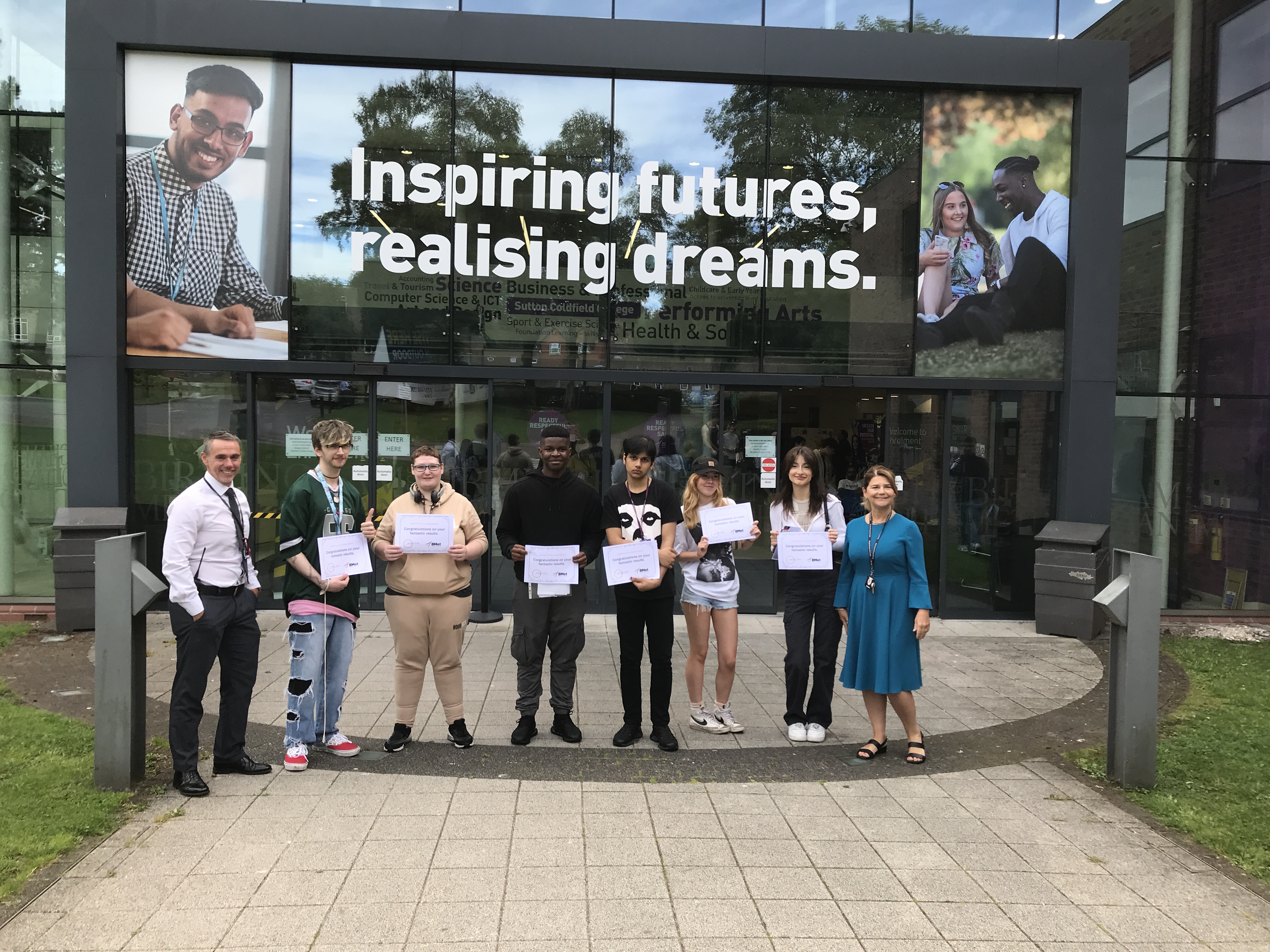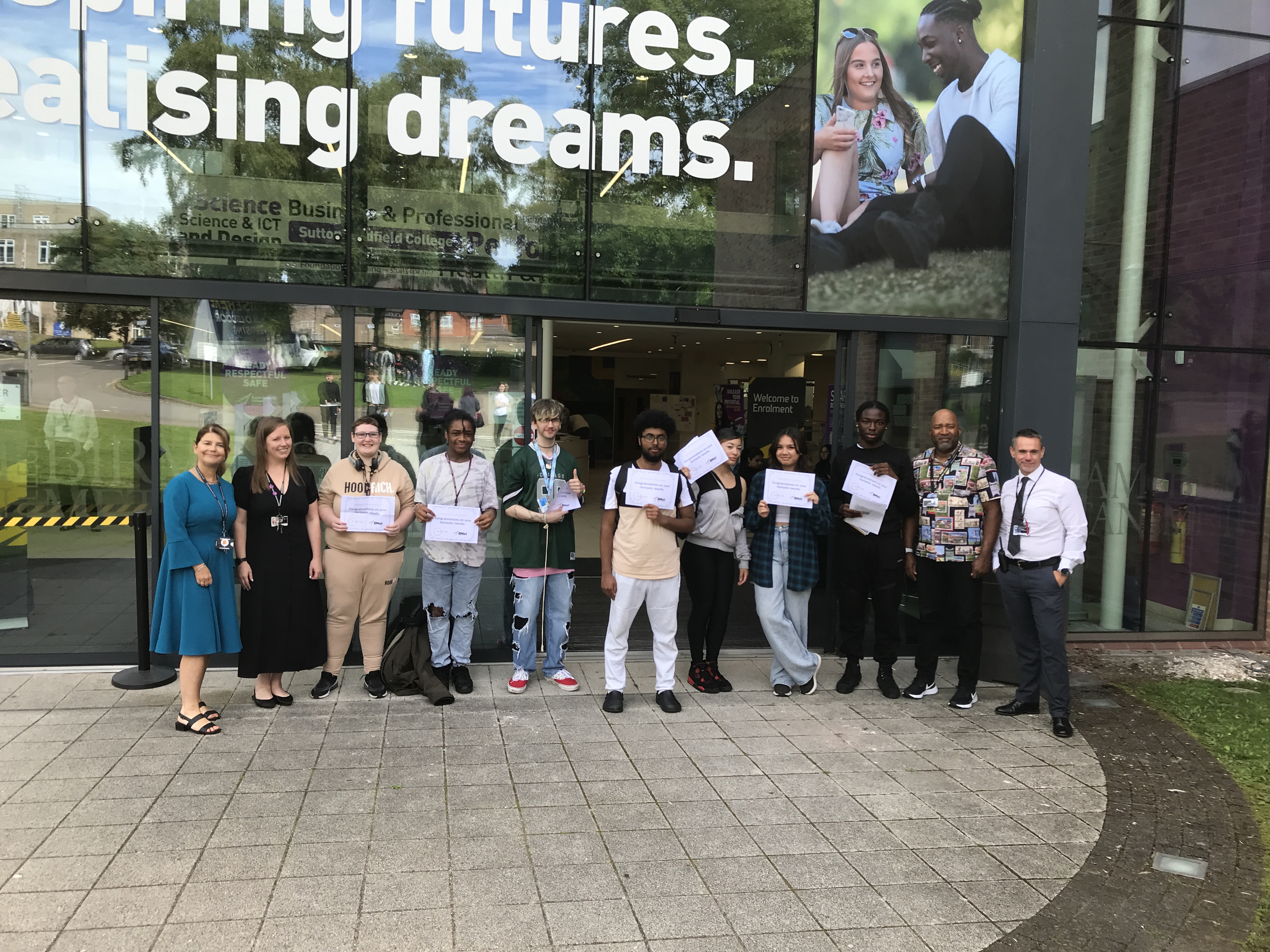 This is what some of our happy students had to say about their results:
Aimee, 41:
"I achieved a higher Grade 4 in Maths, which is fantastic news for me as a single mum, who has been seeking a career change!
"My background is in hairdressing but since I have had my daughter two years ago, I wanted to try something new and get into the accountancy field. I got my English GCSE last year and after passing both subjects, I feel excited about doing an AAT in Accountancy at BMet."
Jayden, 18:
"I got a Grade 5 for English, which I am so pleased about and is better than I expected! I have social anxiety, so am thankful to the college for supporting me with my needs and helping me gain the qualifications I have.
"I have just finished studying a Level 3 Extended Diploma in Art and Design and will start a UAL Art and Design Foundation Diploma in September. I am looking forward to embarking on a creative career and am thinking of a few options like tattoo artistry."
Diego, 16:
"I am happy that I got a Level 4 in English and Level 5 in Maths today and am looking forward to studying Level 3 ICT at BMet.
"I am from Portugal and am happy to further my studies in the UK, including later going on to university, with the aim of becoming a Data Manager in the future."
Adele, 51:
"I achieved a Level 4 in Maths at BMet, whilst working as a Business Support Administrator at the College.
"I was inspired and supported by my fellow colleagues, especially my tutor, Stephen, who gave me a new level of confidence and self-belief as an adult getting back into education.
"I felt that re-taking Maths now was the right thing to do, as it not only gives me a sense of personal achievement, but I feel that I can be a better example to students at the college, who I can now further support.
Kurtis, 16:
"I got a 4 in Maths and a 4 and 5 in a Science Synergy course. I am happy with my results, as it now means that I can study a Level 3 Diploma in Sports Science at BMet.
"I have always had a love of sports and with the results I have obtained, I feel confident that I will achieve my ultimate career goal of working within sport therapy."
BMet offers GCSE study in English, Maths, Science and Humanities for learners aged between 16 and 19, as well as adult learners either as standalone opportunities, or as part of a variety of courses including ESOL, foundation learning and vocational.
Anna Jackson, BMet College Deputy Principal said: "As always, as a college, we are very happy with our students' achievements, in gaining their GCSE results.
"Many of our students have come to us without a GCSE English or Maths pass and we have helped them achieve great grades to go on to university, higher level course options, employment or start an apprenticeship.
"These results prove that whatever learning stage you are at, it's never too late for you to gain your GCSEs and follow career ambitions.
"A huge well done to our students and staff for everything they've achieved this year, and we look forward to hearing about their exciting futures."
BMet is currently enrolling for this September's GCSE admission, alongside A Level and vocational courses, apprenticeships and higher level courses.
To find out more about our maths and English courses, please visit: https://www.bmet.ac.uk/our-courses/courses-for-19/part-time-courses-for-adult-learners/english-maths-esol/ or call 0121 446 4545.
You can also enrol onto our courses here: https://www.bmet.ac.uk/open-events-enrolment/summer-enrolment/