BMet hosts film and gaming event with Hollywood filmmaker and cyber education charity
BMet students got the chance to hear from a Hollywood filmmaker and gain an insight into the world of filming and gaming this month at an exciting event with the Cyber Hub Trust charity.
Organised by the education charity, scriptwriter, film maker and executive producer, Kristin Ellingson, shared her experience of the technology, film and gaming worlds. She spoke about her own career history and the many types of jobs on offer – giving learners first-hand insight into these exciting industries.
Learners studying digital technology and cyber security, as well as those on creative courses (including film, media, design, fashion & digital marketing) attended the innovative event, alongside a range of stakeholders including local government and law enforcement representatives, film and documentary makers, studio executives and communications & marketing professionals.
Kristin was the writing partner of Rafael Moreau, who wrote the cult classic film 'Hackers' starring Angelina Jolie and Jonny Lee Miller in 1996. This film brought the relatively new world of cybersecurity, hacking and the need for ethical practices into the public conscience.
Kristin now works with the AR/VR VFX studio, MetaLVX, which uses Epic's gaming software Unreal Engine to create virtual experiences and previews, production design and special effects for film and television. She was keen to share her experience with the next generation of film, gaming and cyber experts.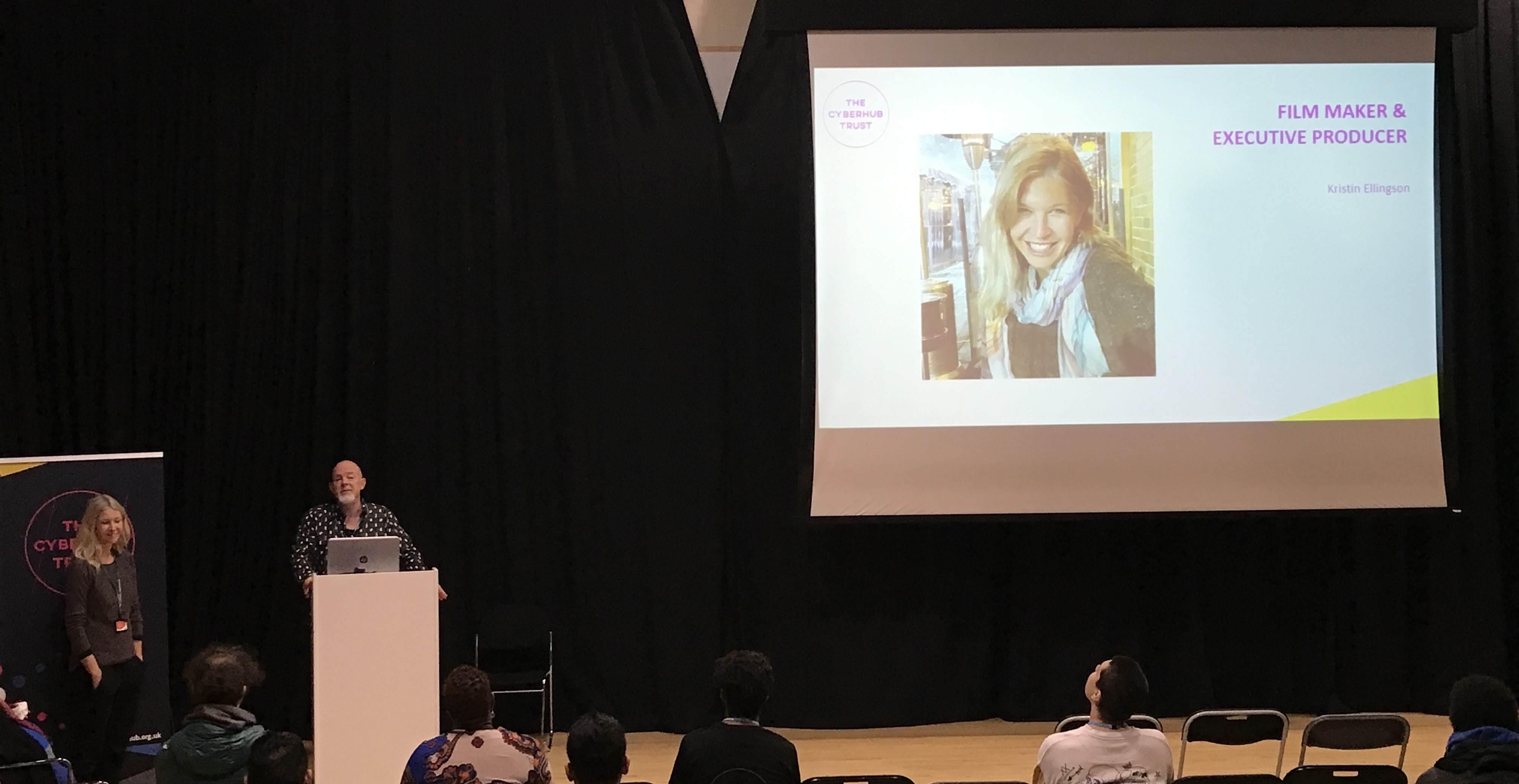 Kristin said: "It was so exciting to meet the next generation of potential film makers, game makers and artists, who have the skills and abilities to take technology to the next level!
"I feel like I am "in tune" with young people, so was so enthused by their creativity, passions and knowledge, which shone through the Q & A session and also when they came to speak to me.
"Although, I have previously been to the UK, it is my first time coming to Birmingham and am pleased that I came for such a positive occasion."
The event contained a full day of activities, presentations, and a Q&A session where students had the chance to quiz Kristin, as well as other specialist VIPs. Topics included personal stories from big-budget movies, careers in filming, cybersecurity, the impacts of AI on the industry and specialist software.
Here is what some of BMet students said:
Fatima, Computing and Cyber Security Student:
"Today was a great opportunity for me and other students to widen our knowledge of the career pathways available to them, within not only digital technologies but also within the film industry.
"I am thinking of working within Data Analytics and after listening to and networking with the inspiring speakers, I feel even more excited about my future and the range of careers available to me!"
Marek, Graphic Design Student:
"I feel the event was very rewarding and a chance to network with inspiring professionals.
"In the future, I am now even more passionate about pursuing a career in music production, film or audio production."
Kamil, Business Student:
"Opportunities like this don't come around very often, and I found it very rewarding to learn and socialise with experienced and like-minded people.
"I find both business and technology interesting and I am looking forward to carving out a career for myself that combines both!"
Abas, IT Student:
"I found the event very informative, interesting and educational. I have learned so much knowledge and skills on my course that will be useful for my career, but to hear from professionals in industries I am passionate about was a unique experience!
"There are so many jobs and careers that I can now pursue, some of which I wasn't previously aware of!"
Liban, Digital Media Student:
"The event exceeded my expectations, as I learned so many things that I can apply to my life now and in the future!
"Hearing from expert speakers from different organisations, gave me a wider knowledge of the many career opportunities available to me."
Friends – Khadijah and Paula, Creative Computing Students:
"The event was very informative and gave us a clear view of the wide opportunities available to us.
"We have a wider understanding of so many things now including cyber security, AI and the film industry and know the best way of reaching our goals and behaving in a professional manner."
Alongside Kristin, speakers included both the CEO and Chair of Trustees of The CyberHub Trust, Michael and Julia Klonowski, local Film & Gaming figures, experts from Police Regional Cyber Crime Units (RCCU) and representatives from cyber security specialists, the BIT Group, among others.
CEO of The CyberHub Trust, Michael Klonowski, said: "We are delighted to be organising these events, which will give students at FE colleges and IoTs around the country the opportunity to hear from a Hollywood industry specialist.
"Our charity's aim is to ensure that people from all background, male and female, and from all age groups, can access great careers within the digital technology and cyber industries. Kristin's experience and knowledge, provided first-hand, will hopefully inspire and encourage FE students to pursue their ambitions in these industries – and highlight some of the opportunities they may not have considered before.
 "We are extremely grateful to Kristin for her time and also to the five colleges for hosting these exciting events."