BMet celebrates launch of Irwin Mitchell Solicitors and Bila Law Academy partnership
Irwin Mitchell Solicitors have joined Bilal Law Academy as a corporate member to further boost students legal career prospects.
The fusion means that law students at BMet will now benefit from even more rewarding opportunities that will be invaluable for their future goals.
To mark the important occasion, a "Black Men in Law" celebratory event was held at Irwin Mitchell's Birmingham Headquarters at Colmore Circus Queensway, coinciding with Black History Month.
It was a great opportunity for students and staff to join with Bila Law Academy and Irwin Mitchell representatives for the event, that provided role models, encouragement and inspiration to those seeking to pursue a career in the legal profession.
Speakers included:
Carlton Williams – First-tier Tribunal Judge sitting in the Immigration and Asylum Chamber
Jason Perrin – Barrister at No5 Chambers
Dion Calder – Solicitor at Bailey Wright and Co
Kristian Campbell-Drummond – Solicitor at Weightmans
Gabriel Okei – Client Experience Expert at Irwin Mitchell LLP
The speakers discussed their background, experience, and journey into the legal profession, which was followed by a Q&A session.
Speaker Dion Calder said: "I am local to Birmingham and feel that it is important to try to inspire the next generation to believe that they can achieve great things within the legal profession.
"I thoroughly enjoyed being part of the event today and was impressed by the questions I was asked by young people."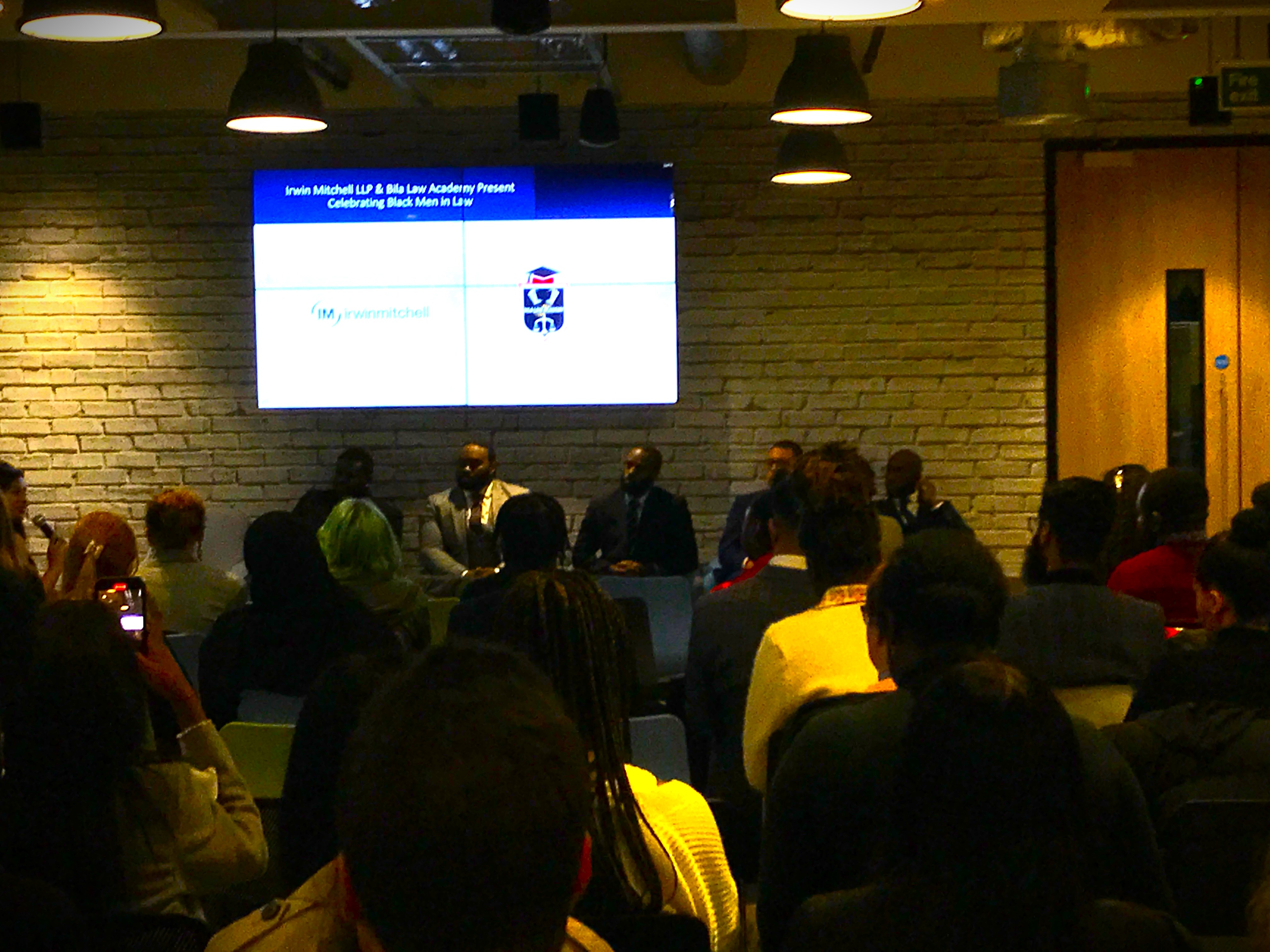 Here is what some of BMet's law students had to say:
Chiyna-Marie, a Law, Psychology and Criminology A Level Student: "I find being part of Bila Law Academy really empowering as a Black female aspiring to make her mark in the legal profession.
"Seeing people like me in top positions today, makes me feel more confident that I can make it as a Barrister. I am so glad I came to such a positive event today."
Liliesha, who is also an A Level Law student said: "It is amazing to be part of Bila Law Academy, it gives me the support I need to progress into my desired legal career.
"I really liked the event and loved networking with black legal professionals and the speakers all had such charisma!"
Rozerin, Access to HE Law and Criminology said: "Being part of the Bila Law Academy is eye-opening, educational, and informative – I really enjoy it and know that it will be invaluable for my future.
"I was inspired by the speakers and learnt so much from them."
Alex, who is also an Access to HE Law and Criminology student said: "I feel so proud to be part of the Bila Law Academy, which provides a real network for people to be the best of the best.
"My teacher Yasmin has worked very hard to provide us with useful enrichment opportunities. The event today was great with a wonderful atmosphere and lovely food."
Nadine Bila, Founder & CEO at Bila Law Academy said: "The event was a huge success and beyond my expectations. It was an exceptionally unforgettable experience celebrating Black Men in Law and the launch of Irwin Mitchell's corporate partnership with Bila Law Academy.
"We were honoured to have the most amazing speakers from various legal backgrounds who are all great lawyers.  It was a pleasure to have law students at BMet and aspiring lawyers keen to learn from the visible role models.
"It's our mission to leave the next generation of legal professionals better equipped."
BMet College and the Bila Law Academy have been working in collaboration with each other since 2021, when they united to find pathways to upskill aspiring legal professionals from underrepresented backgrounds.
Satinder Bains, Partner at Irwin Michell, said: "It was an incredible event that truly exceeded my expectations. It was interactive and engaging and the discussions between students and the legal professionals were interesting.
"We at Irwin Mitchell are excited about our collaboration with Bila Law Academy, we are in sync with our aims and vision, and it all seems effortless and natural."
Visit BMet, Bila Law Academy and Irwin Mitchell Solicitors websites for more information about the key players in the new partnership that will benefit hundreds of students.