Treasured BMet apprentice lecturer gains award win at prestigious awards
A kind-hearted BMet lecturer and training assessor has been officially rewarded for his hard work and dedication to apprentices, after gaining a top award at a prestigious ceremony.
Stephen Whiting, who is based at the MINI Plant Oxford, secured the "Training Provider Individual Award" at this year's regional Oxfordshire Apprenticeship Awards.
The award is a new category for 2022. It celebrates colleagues working for organisations that provide apprenticeship training, who support and encourage apprentices and enable individuals to achieve to their potential.
Stephen was recognised for going the extra mile to help apprentices reach their goals, whilst overcoming his own personal challenges with his neurodiversity.
Being diagnosed with dyslexia in the 1970s – with auditory processes and visual impairment – as a child, meant that Stephen from an early age had to face many obstacles and attended a special educational needs school.  Rather than become defeated, his unique experiences in fact spurned him on to excel in life and help others along the way.
His official recommendation came from one of the college's partner employers, The Science and Technology Facilities Council (STFC), who work with BMet's apprentices.
Stephen was nominated for his continual and selfless work supporting apprentices. A particular highlight was during the Covid lockdown, when he got apprentices back on track and even welcomed additional apprentices to his MINI academy.
Taking on 16 extra apprentices including ones with additional needs, alongside his existing cohort of over 50 learners at the BMW Group, was a milestone achievement for Stephen. As well as successfully moving all his delivery online, Stephen made a long-term "results driven" plan for each apprentice and the employer.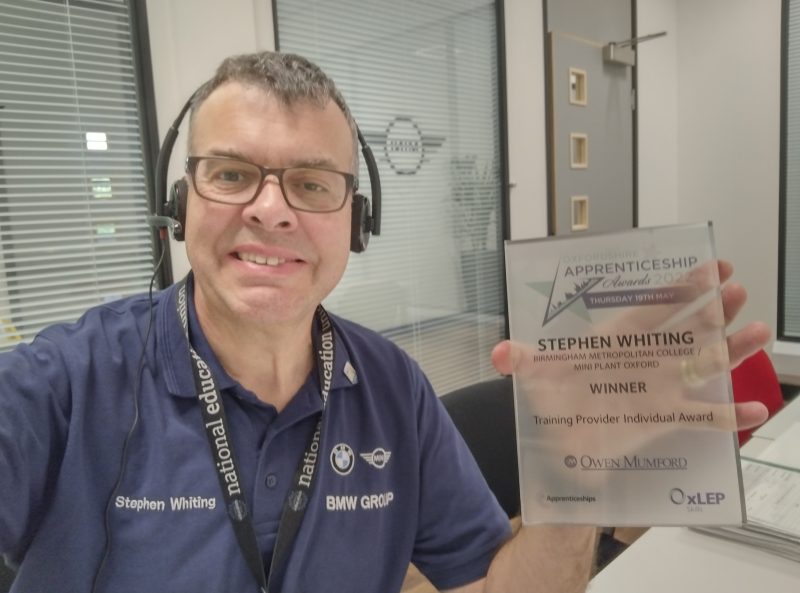 Speaking of his award win, Stephen expressed: "Words can't quite convey how happy I am to win this award and I am over the moon! I never thought that I would ever be recognised in such a way for just being me.
"Being nominated was wonderful enough and meant the word to me. But then to be a finalist and then to win the award, truly surpassed my expectations!"
Stephen attended the awards ceremony with his wife, Cathy and his mother, Ersilia, who he said have offered him a tremendous amount of support during his journey.
He added: "It was a perfect celebration. If my father Terence was still alive and I could change one thing, it would be for him to also have been there, as I owe a huge amount of my success to him, as he truly believed in me."
All of Stephen's team, who Stephen also sources as huge support mechanisms along his journey, are extremely happy about his award win.
Karl Ronan, Head of Centre, at Plant Oxford, expressed: "It is fantastic for Stephen to be officially recognised for the work he does, as he is selfless, has a fantastic work ethic and truly makes a difference.
"He certainly goes over and above his day job to make sure that apprentices achieve, so it is all truly deserved!"
Helen Johnson, Head of Apprenticeships and Ria Poliquin, Apprenticeship Scheme Coordinator at The Science and Technology Facilities Council, who nominated Stephen added: "We chose to nominate Stephen for the Training Provider Individual Award because of his consistent excellence in supporting our engineering apprentices. He discerns quickly each apprentice's individual needs and demonstrates an extraordinary commitment to support them on an individualised basis.
"Stephen always goes the extra mile, and not for any other reason than to enable the apprentices to demonstrate their skills, progress and achieve. We are absolutely thrilled for Stephen to win this award which is so thoroughly deserved."
The annual Oxfordshire Apprenticeship Awards shine a spotlight on the county's apprentices – and the businesses and organisations, training providers and schools.
You can find out more about the apprenticeships offered at BMet on our website.
BMet is a leading apprenticeship provider.  Find out more about the apprenticeships that BMet delivers for employers here.