BMet joins innovative regional businesses to support Birmingham Tech Week
BMet is proud to be an official sponsor of Birmingham Tech Week again this year!
The annual event, which took place this month, is a festival of digital, technology and innovation across the city and the West Midlands.
It is a great opportunity for the Birmingham-wide college to lend its support to a special event that resonates with its curriculum and ethos, whilst having students and key members of its business development team involved in the week-long series of technology-focused activities.
The innovative and cutting-edge week began with an opening that enabled 350 tech advocates to come together, showcasing what technological advances there are to look forward to in the next year.
Key highlights for the week, that BMet representatives attended included:
A digital skills day – enabling participants to hear from thought-leaders, learn new skills, discover new opportunities and connect with businesses across the region.
A Tech Showcase – giving tech and digital businesses across the region, the opportunity to tell their stories, showcasing innovation and success to a global audience.
Business Support and Investment – a day dedicated to supporting tech start-ups across the region, helping them acquire new knowledge, access investment and connect with business leaders.
Black-Tie Dinner and Awards – a fantastic closing of the week with a prestigious celebration. 550 tech leaders joined the showcase highlighting why the region is a great Tech Hub.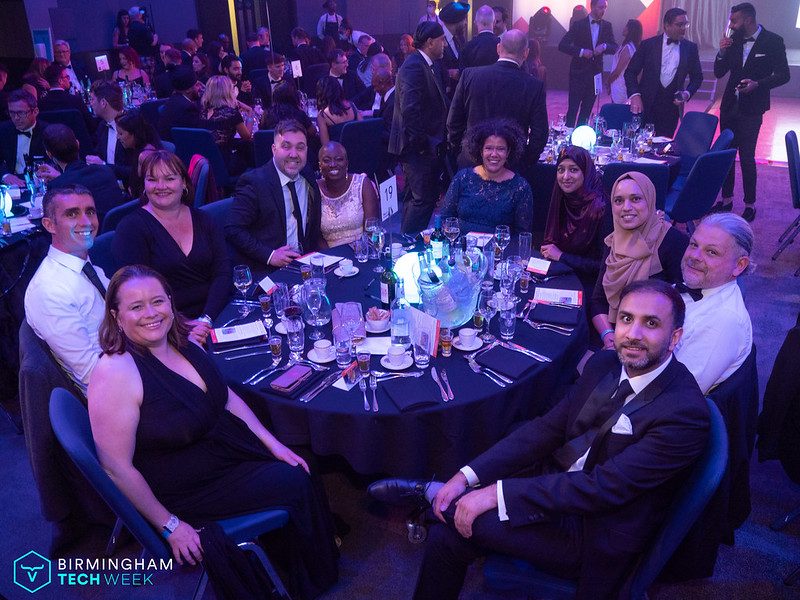 *Suzie Branch-Haddow, Vice Principal External Development, Violet Williams, Industry Placement Officer and Mike Townsend, Business Development at BMet co-hosted the Black-Tie Dinner and Awards. BMet students were also praised for their involvement in the Digital Skills Day. Along with University of Birmingham students, they took a live brief of three tech firms in the morning, and six hours later produced a new product pitch to a room fill of the business tech community.
Suzie said: "We feel it an honour as the only FE College to be able to sponsor such an important date in the calendar.
"Technology and digital advancements play a huge part in BMet's ever-growing employer-focused curriculum, so it is extremely important that our staff and students get involved.
"All our BMet representatives attending the various events, had a very rewarding and educational experience and we look forward to supporting Birmingham Tech Week again."
BMet continues to place huge significance and value on STEM subjects, for the benefit of students and the college as a whole. This includes partnerships with key likeminded organisations around the region and beyond. See details about BMet's employer partnerships on our website.
To see the variety of courses we have available which include science, technology, engineering and maths, please see here.
The Birmingham-base college also has a digital and tech-focused Employer Advisory Board, which further highlights its affinity with technology.