BMet Fellowship awarded to BNP Paribas Personal Finance Head
A key figure at a national consumer finance company has been officially rewarded for her impactful relationship with BMet and its students.
Vicky Waters, the head of talent, careers and early development at BNP Paribas Personal Finance, received a BMet Fellowship Award as part of the college's Virtual Higher Education Graduation Ceremony.
Held last week, the celebration evening rewarded current and former higher education students, alongside their families and BMet curriculum teams.
Vicky's award signifies her consistent passion for vocational education and training, which is clearly manifest in the high-level support that she gives to BMet and its students.
As a founding member of the Greater Birmingham Professional Service Academy (GBPSA) and recent Chair of the Board, Vicky has gone above and beyond her role to provide life-changing opportunities for students. This is evidenced by BNP Paribas Personal Finance supporting the GBPSA model, by delivering high quality interactive workshops, mentoring and work experience opportunities for students.
Vicky also gives up her spare time to act as College and FE Ambassador and mentor for students.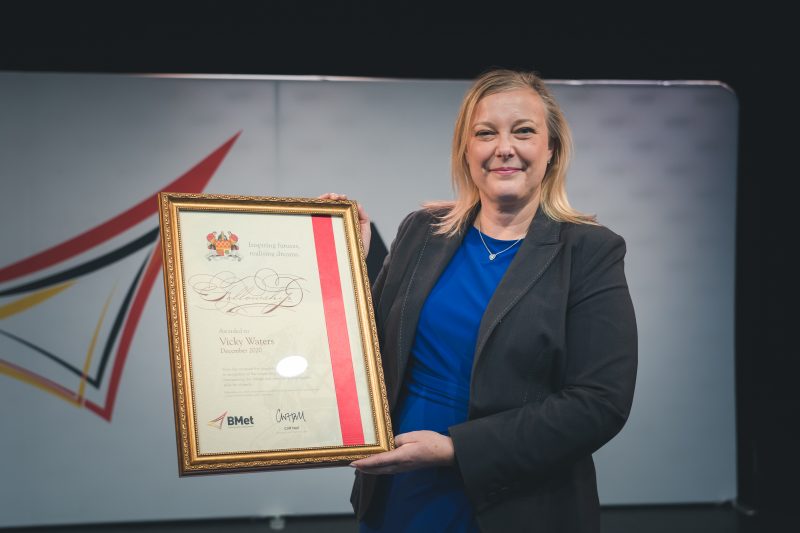 Speaking of her award win, Vicky said: "I am absolutely delighted and honoured to win this award. It is lovely to get that acknowledgment and recognition for the work that is done to help the students bridge the gap between education and the workplace."
Vicky also proactively discusses new training opportunities with the college. This has resulted in BMet recruiting and training apprentices for BNP Paribas Personal Finance in a customer service programme and upskilling current staff through a team leading programme of work.
Vicky once said that her relationship with BMet had been transformational to BNP Paribas Personal Finance. We believe that the same can be said for our relationship with BNP Paribas Personal Finance, thanks to Vicky's leadership!
To read more about the BMet 2020 Higher Education Awards click here.