Virtual Graduation Ceremony rewards high level talent at BMet
Over 200 Higher Education students at BMet were officially recognised for their hard work and achievements at a special virtual ceremony held to celebrate their success last week.
The annual event, took place on 10 December and this year was online in keeping with current trends arising from the Covid-19 pandemic.
Opening with a welcome address by Sutton Coldfield College Vice Principal Anna Jackson, the celebration was attended by current and former students, their families as well as BMet teaching and support staff.
Highlights of the day included pre-recorded "thank you" messages from graduands holding their certificates and specially designed BMet HE Graduation teddy-bears. There were also performances by BMet performing arts students and acclaimed local spoken word artist, Raza Hussain (known as "Razzamill").
BMet Principal, Cliff Hall, introduced local MP Shabana Mahmood, who was the Keynote speaker. Cliff commented: "Our HE Graduation Ceremony marks a very significant date in our calendar and we were delighted that Shabana was able to be our keynote speaker.
"This year has been very challenging for many. So, we were especially happy to be able to bring a bit of joy to our students and their families by celebrating this important milestone."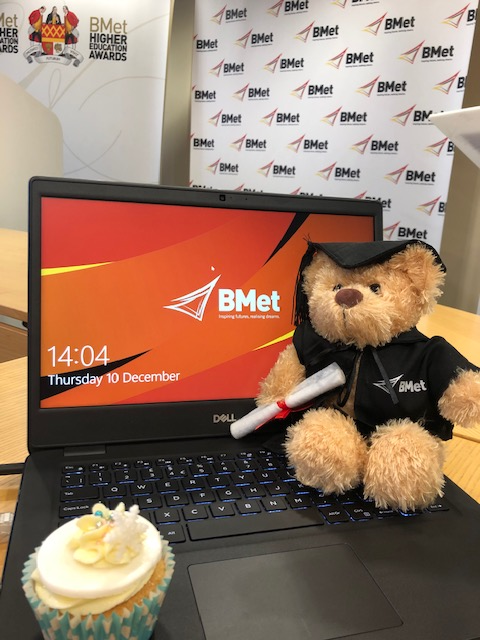 As in previous years, Resilience and Alumni awards were given to students who have demonstrated success through their studies and career achievements. A BMet Fellowship Award was also given to Vicky Waters from BNP Paribas for the support she has given to students over the years.
In addition, level 3 students studying courses at James Watt, Matthew Boulton and Sutton Coldfield Colleges were presented with outstanding achievement and highly commended certificates.
Mark Brammeld, the BMet Resilience Award winner who studied an Access to Science at Matthew Boulton College, said: "Being nominated for an award is always an honour. However, receiving the award in a year where all students displayed great resilience in response to the Covid-19 situation is particularly rewarding."
Abigail Cottrell, a BMet Alumni Award winner who studied an Extended Diploma in Sports Science at Sutton Coldfield College said: "It is a great achievement to be recognised for all my hard work, dedication and achievements. I have fantastic memories during my time at BMet, which I have carried forward to my role as a Physiotherapist."
Level 3 Outstanding Achievement award winner Tahmina Begum, who is studying an Extended Diploma in Business at Matthew Boulton College said: "Receiving this award has given me a huge boost of energy and I feel confident in continuing with my studies. After completing my course, I aim to go on to university to study business management and feel that I am on the right path to achieve this."
Look out for more news stories and social media posts that will be further celebrating this year's BMet Higher Education Graduation Ceremony and its winners.
Congratulations again from all of us at BMet.  Click here to watch the event.