BMet Alumni award recognises Joel's positive progression route at BMet
A former apprentice and current employee at BMet has received a special award to recognise his positive contributions to the college.
Joel, an Employment Contact Centre Officer within the college's business development team, received an Alumni award as part of this year's Virtual Higher Education Graduation Ceremony.
Held last week, the celebration evening rewarded current and former higher education students, alongside their families and BMet curriculum teams.
Joel was recognised for demonstrating a strong work ethic, clear commitment and passion as a student and an employee.
The efficient and self-motivated award winner, joined BMet as an apprentice in 2016. Following the completion of his A levels, Joel went on to achieve his intermediate and advanced apprenticeships in Business and Administration at Sutton Coldfield College. He then progressed on to a careers-focused degree apprenticeship funded through BMet's Apprenticeship Levy.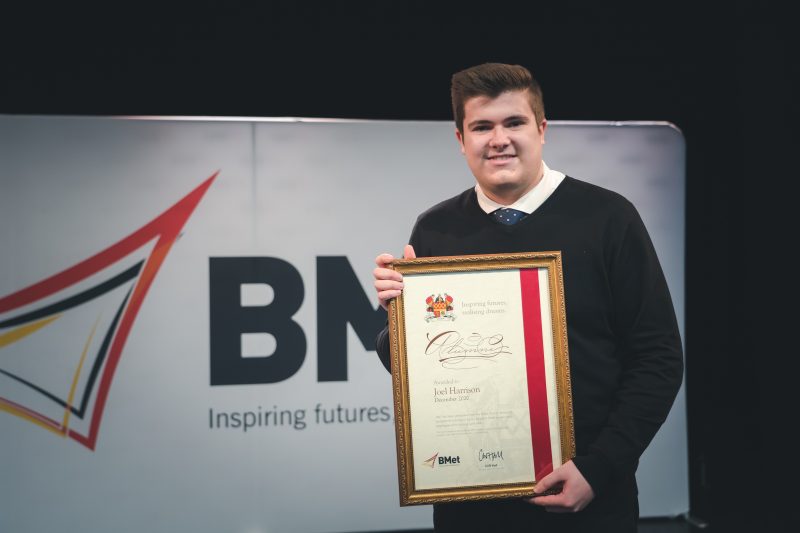 Speaking of his win, Joel said: "I am delighted and feel honoured to even be nominated for this award.
"It lends a sense of perspective to realise that your achievements are being recognised and that my hard work has paid off."
Joel is described by his colleagues as a self-motivated member of the Business Development team, and his positive "can do" attitude also tends to rub off onto his more experienced colleagues!
As a true advocate for apprenticeships, he also often shares his own experiences as an apprentice at BMet open days, job centre events and other recruitment opportunities.
His other accolades include being a finalist in the 2020 Future Faces of Birmingham Awards, a regional awards ceremony recognising young professionals and celebrating talent across the city.
To read more about the BMet 2020 Higher Education Awards click here.