Rising BMet engineering student's one step closer to being crowned apprentice of the year
A talented engineering apprentice at BMet's James Watt College has been short-listed for a national award for his commitment and strong work ethic.
Ahmad Ford, who is studying an Advanced Manufacturing Engineering Apprenticeship with Birmingham based HydraForce Hydraulics Ltd, is now in the running to being named as the "Apprentice of the Year", at the Made in the Midlands 2021 Awards.
Now in its 11th year, the annual celebration of Midlands manufacturing will be taking place this July. It will showcase industry talent and the key role the sector will play in the region's recovery.
Ahmad's shortlist follows a rigorous selection process, which attracted a range of entries from a wide variety of industries.
Only six other apprentices are in the running for the coveted title of apprentice of the year.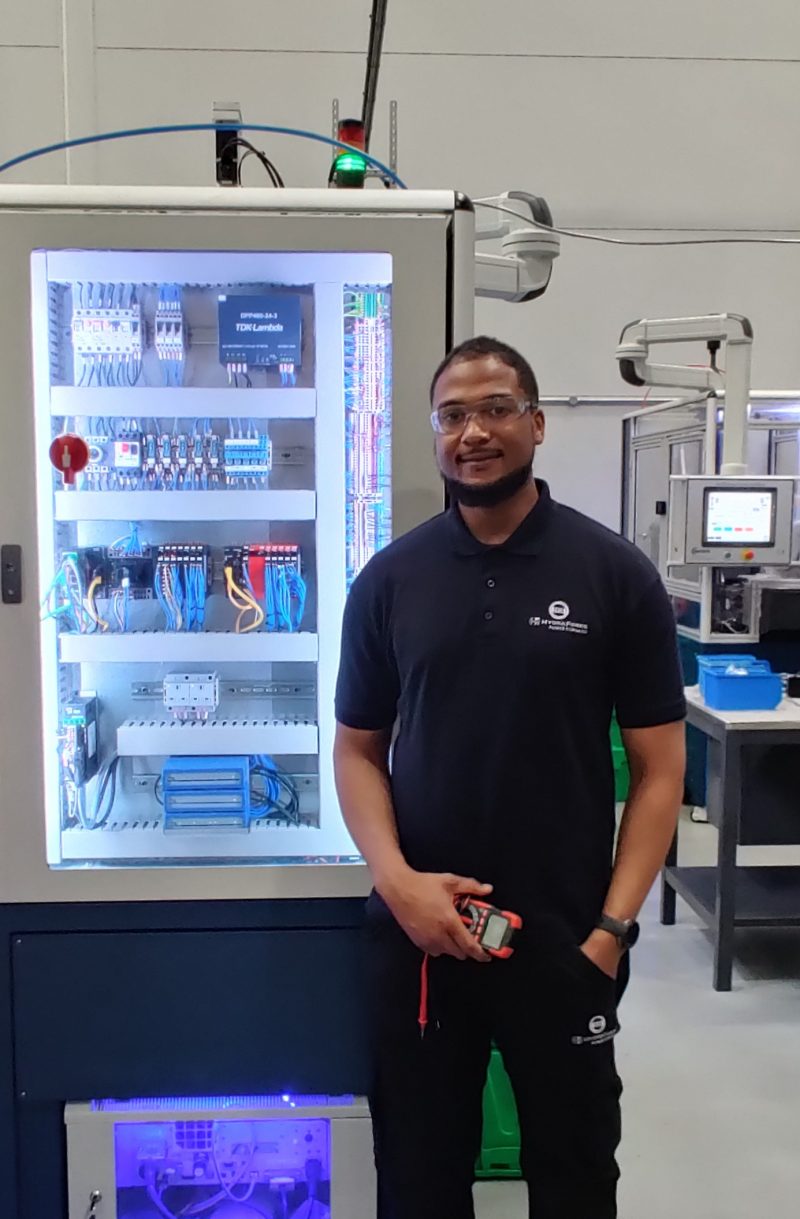 Speaking of his achievement, Ahmad who is set to complete his apprenticeship next year, said: "It means a lot to me to be shortlisted for this award. This is because I see it as a show of appreciation and acknowledgement for the effort and work that I have put into my apprenticeship.
"Knowing that those close to me are able to see that what I have achieved on my apprenticeship is being recognised, means a lot to me also.
"My experience of this apprenticeship has overall been a joyful and challenging one. When I am at college, the teachers are very supportive, have helped me to understand a complex subject area and have made sure I have been able to learn in a practical environment."
Through higher level engineering apprenticeships at BMet, students have the opportunity to carve out fantastic careers within manufacturing, engineering, electronic and related industries.
Neil Davies, Director of Engineering at James Watt College, said: "We are all really pleased for Ahmad and we'll be routing for him in July – even though in our eyes he is already a winner!
"It is great that he is on target to reaching his career goal to work within the field of mechatronics and we wish him all the very best on his exciting journey."
Other shortlisted contenders who will be part of the special ceremony, are from categories including the Automotive, Aerospace & Rail Award, Digital Engineering/Technology Award, Food and Drink Award and the Manufacturing Innovation Award Sustainable/Ethical Manufacturer Award.
Christine Tolley, Head of Human Resources at HydraForce Hydraulics Ltd said: "We are immensely proud of Ahmad for being shortlisted for the Made in the Midlands Award, which is a testament to his talent and application to his studies and learning.
"Our philosophy is to encourage our apprentices to enter awards and while we actively support those who apply, we expect them to craft their own entries and portfolio to support those applications, believing in empowerment and ownership, which is reflective of our values.
"Ahmad readily responded to that challenge.  His achievement so far reflects his hard work, a characteristic that has seen him achieve so much throughout his apprenticeship to date. We have very high hopes for him and his future with HydraForce and wish him the very best of luck in the final."
The winners of all ten categories will be announced at a gala dinner on July 15 at the Macdonald Burlington Hotel in Birmingham.
To find out more about our varied apprenticeship programmes available at BMet, please visit: https://www.bmet.ac.uk/our-courses/apprenticeships/our-apprenticeships/
Look out also for more details about our upcoming open event on Saturday June 26 – via our website and our BMet social media channels, which will include opportunities to find out more about BMet's varied apprenticeships.