New appointment set to reignite business growth
The success of a leading business professional multi-service enterprise – led by BMet – is set to take new heights following the appointment of its new Chair.
After six years' impactful service, Andy Argyle from KPMG has stepped down as Chair of The Greater Birmingham Professional Service Academy (GBPSA) and will be succeeded by Vicky Waters, who heads talent, career and development at BNP Paribas Personal Finance.
This key development means that the GBPSA, which is a unique employer-education collective, will have a new direction and will continue to progressively provide local students with direct access to a variety of careers and opportunities within the region's business professional services sector.
Located in BMet's Matthew Boulton College, the UK's first business and professional services academy, works with the city's professional and financial firms to recruit and nurture talent through delivering hundreds of internships, apprenticeships, work placements and education-business partnership activity.
One of core objectives of the academy is to provide local skilled resource to the professional services sector.
Refreshing in its approach, the academy works hard to improve social mobility by bringing a diverse range of students into the business professional sector, which has typically recruited from the university graduate pool.
Employers including BNP Paribas Personal Finance, Deutsche Bank, Deloitte, Gateley Plc, KPMG, Lloyds and Wesleyan are part of the community initiative and are already making a positive collective impact on the future careers of young people from a range of different backgrounds.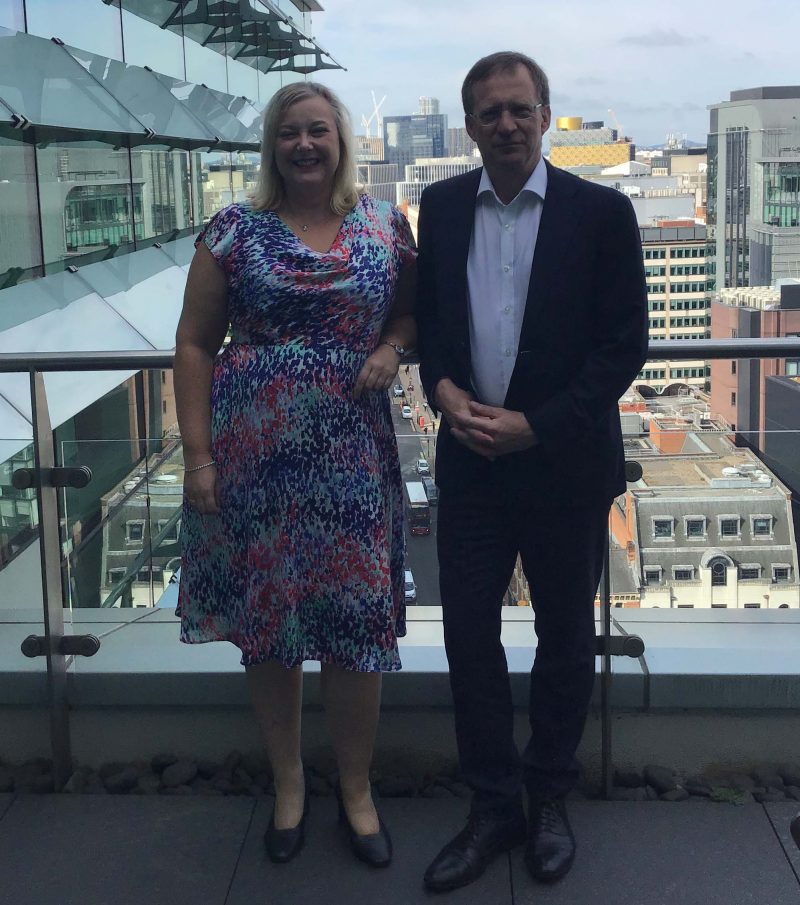 Speaking of her new position, Vicky Waters said: "I am honoured to be the new Chair of the academy, which holds such an important place in the local community. Andy has been extremely influential in his role and has left a huge imprint that I am sure will help make it easier for me to build on. I endeavour to use my skills and experience to help move the academy forward and am looking forward to doing so."
Former Chair of the academy, Andy Argyle said: "My role as Chair has been an extremely rewarding experience. I have thoroughly enjoyed working in the role which plays a significant part in bridging the gap for thousands of people seeking business related opportunities. I truly believe in the academy and am happy that the relationship with KPMG will continue, meaning that I will still have the opportunity to be part of the invaluable venture!"
Links with KPMG will continue as it will remain as a strategic and operations board member.
The six-year academy partnership has already made a significant impact within the region through providing education, training and development to meet the future needs of the sector and the board's new appointment is expected to further advance business ventures.
Suzie Branch-Haddow, Business Development Director at BMet, said: "This is a really strong appointment, as over the last six years our relationship with BNP Paribas Personal Finance has grown and they now work with us in a "360" model, which includes delivering the GBPSA model, work experience, sector-based work academies and apprenticeships – so we couldn't have a stronger ambassador at the helm!
"Andy has provided an impressive foundation for the academy's progression and we have every confidence that Vicky will continue to make a great impact on business development within the region."
Continued sector growth and international competition means that it is more important than ever for our city's employers to nurture and retain local talent.
The comprehensive academy programme has over 30 employers currently working alongside students to develop their professional skills, deepen their knowledge of the sector and raise awareness of sector-specific roles and career opportunities within business, law, finance and property.
Ends