Diverse and digitally focused BMet students find solutions to tackle the cost-of-living crisis – which leads to career-enhancing opportunities
BMet students from underrepresented backgrounds are gaining career boosting opportunities with leading employers, after creating winning solutions to help combat the cost-of-living crisis.
The innovative learners impressed judges and employers at a recent forward-thinking Digital Skills Collaboration Event, organised and hosted by Dan Rodrigues at The Brum Muse CIC – which was part of Birmingham Tech Week.
Tasked with the challenge to "create and pitch a digital solution to help families and people who need support to tackle the cost-of-living crisis", the winning "Taberu" team, devised an innovative way for families in need to access free essential resources through a digital foodbank using an App.
One of the judges, Tom Haworth, Director of B13 Technology, was so impressed with Taberu's concept and solution, that he has just given the students a free venture planning and product assessment at their offices at the Innovation Birmingham Science Park.
The enthusiastic learners spent a few hours with key people within B13 Technology including directors and business analysts for free.
The fantastic opportunity enabled the champion students to discuss and explore their ideas into a product road map, building a tangible product that could help communities in need of extra support during the cost-of-living crisis.
In addition, the team have visited local foodbanks in Birmingham, to find out more about how they operate and how their App can work alongside it.
Speaking of the unique opportunity, Fatima, who is studying Computing and CyberSecurity at BMet's Matthew Boulton College and was part of Taberu said: "It is great to be involved in this huge opportunity, which has exceeded my expectations.
"I really enjoyed meeting new people both in my team and key employers, alongside Dan who have all been a huge help to me. It really has been a team effort and it is wonderful to see that our ideas are actually in the process of being used to help people in a real time of need!"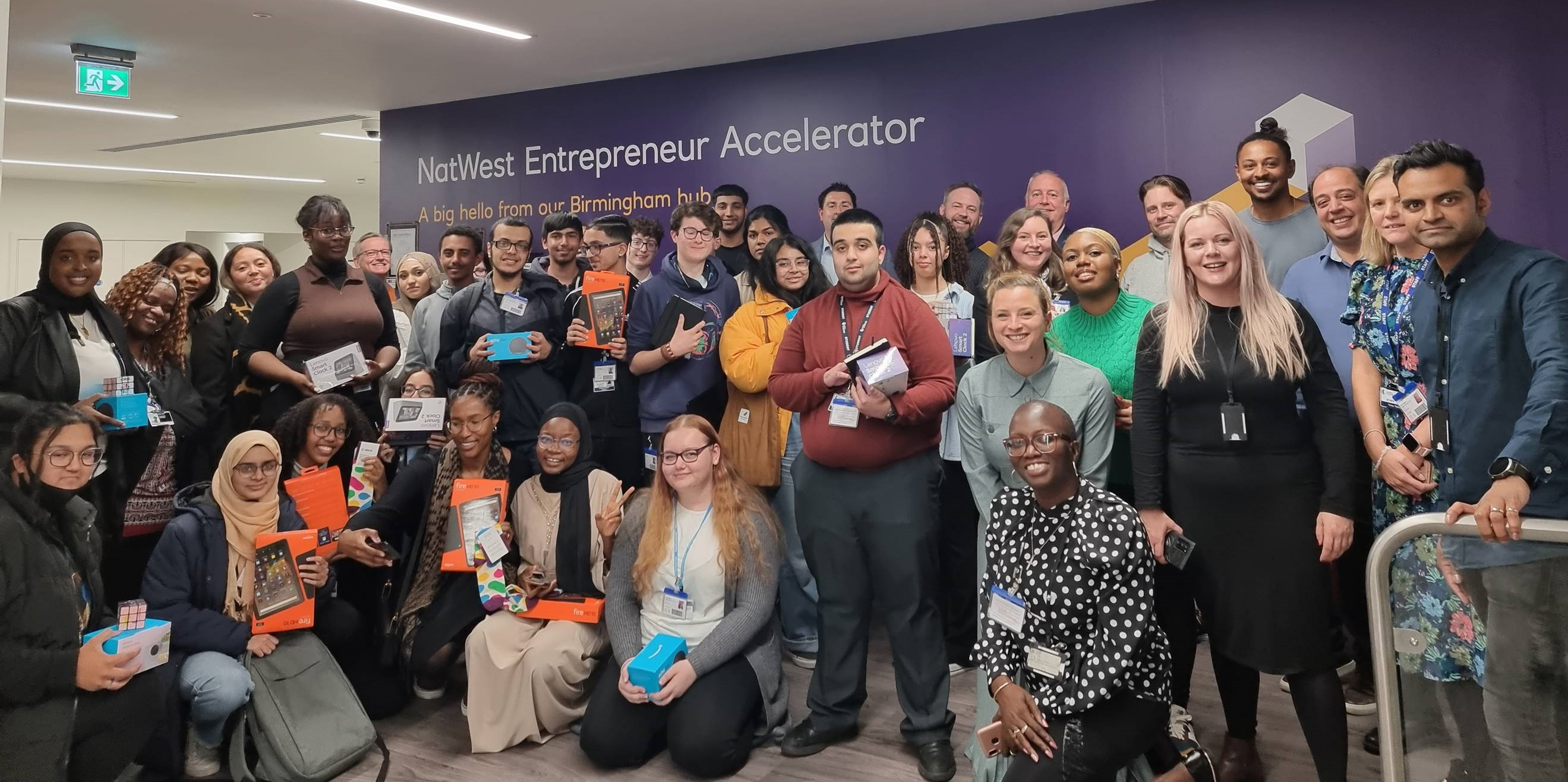 The initial "Digital Skills Day" challenge invited 30 students from BMet, Joseph Chamberlain Sixth Form College and NIYO Bootcamp to spend a day working on real life problems from concept to delivery.
After pitching to a panel of leading local investors and technology judges, all participants were in the running to win a full day's mentorship from technology experts.
Students also had the opportunity to be supported by mentors on the day, selected from an array of technology companies and local governing bodies.
Here is what two other students who were successful in the challenge and who are both studying computer science at BMet's Sutton Coldfield College had to say:
Lemeya, who was in the second place "Simple Finance" team: "Our idea was to develop an App to help young people with their finances, including accessing courses and having mentors to give them advice.
"The whole process has been really useful and has helped me develop my business skills by working with real employers, for a real business need!"
Manpreet, who was part of the "Cutclass" team who came third: "Our team had the idea to create an App and website for single parents to supply and compare cheaper deals. It was fun working in a group who shared mutual interests and I even made a friend along the process!
"The event helped me build on my confidence and my favourite part was the planning stage!"
The Brum Muse CIC also lined up other investors from the West Midlands to sit on the pitch, with a view of offering other real investment opportunities to take the idea from ideation stage to pre-start up.
Speaking of his successful initiative, Dan said: "The Brum Muse is all about impact and action led events. There is nothing out there like this that connects school and college children with real life opportunities where they are being pro-active, working on entrepreneurial projects and getting them thinking like company owners.
"The notion of bringing the community and eco-system together is important to this, and by having tech professionals and companies together who can inspire these young people, that they have a place and that they can do it, is vital in bridging the digital skills gap. This is because it is real, and they are made to see they can be what they can see."
To find out more about partnership opportunities with BMet and other leading employers, please visit – https://www.bmet.ac.uk/employers/ and to find out more about The Brum Muse CIC, visit – https://cx-squared.com/the-brum-muse/.