BMet apprenticeships officially recognised for high standard EPA's by City and Guilds
BMet has been officially recognised for its provision of top-class End Point Assessment (EPA) training and services for its apprenticeships, by leading national awarding body City and Guilds.
The college which offers a range of apprenticeships across its campuses alongside employers, has been selected for continually producing high student pass rates and distinctions.
To mark the important accolade, key individuals at BMet who play a huge role in the delivery of apprenticeships at BMet, were presented with a special "Excellence in EPA delivery" plaque in recognition of the college's services.
End Point Assessments take place at the final stage of apprenticeship standard programmes with externally approved End Point Assessment Organisations (EPAO's). They test the behaviours, knowledge and skills of apprentices ahead of them joining workforces as employees. Through the EPA's, which include completion of portfolios, professional interviews and practical assessments, apprentices gain industry approved competencies, which ensure that learners are ready for the world of work.
BMet has been working with City and Guilds for a number of years to successfully deliver EPA's in a variety of subjects including bricklaying, carpentry, infrastructure technology, infrastructure communication technology and dental nursing.
Having the plaque of excellence, officially gives BMet's End Point Assessments and training the accolade and stamp of excellence that it deserves.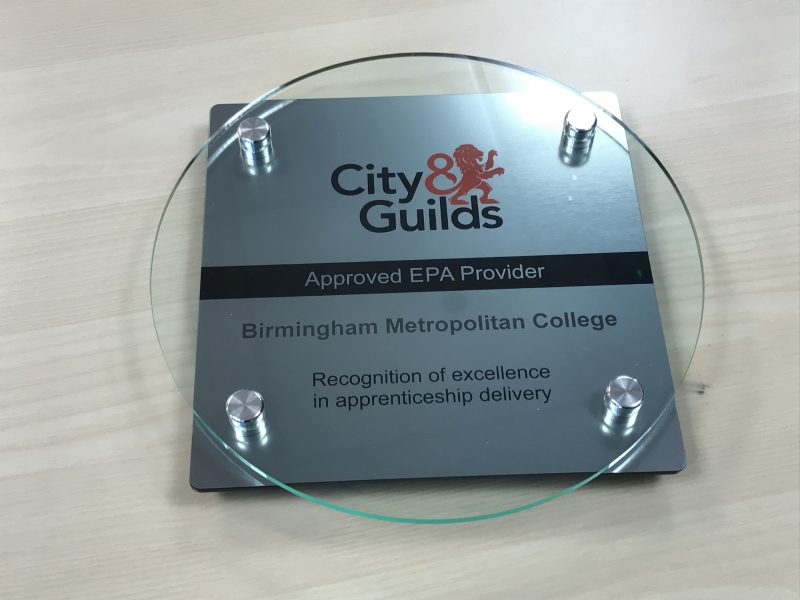 Sue Hopewell, Vice Principal Curriculum and Quality at BMet, said: "We are delighted to have been recognised by the City and Guilds for our end point assessments.
"Working with local, national and international employers to deliver effective apprenticeships not only enables our students to gain career-focused skills and knowledge, but also helps employers with their recruitment needs.
"At BMet we truly understand and value the importance of apprenticeships and so to be recognised for the work that we continuously do to ensure we deliver the best, means a huge amount. We feel fortunate that many of the employers that we work with have chosen to use City and Guilds end point assessments, which are clearly a good fit for our apprentices!"
 Training bodies are awarded with the EPA plaque based on their performance as a centre. The plaques have been produced to recognise the achievements of key providers like BMet, who can feature them with pride within their centre and showcase the quality of their delivery with apprentices and wider stakeholders.
Kevin Wilkinson, Business Development Manager at City and Guilds, said: "I am delighted that due to the high quality and standard of BMet's apprenticeship provision, we are awarding the college with an "Excellence in EPA delivery" plaque to showcase the successful apprenticeship provision.
"City & Guilds apprentices at BMet can be proud of their achievements as they start their careers."
To find out about our range of apprenticeships offered at BMet, please visit: https://www.bmet.ac.uk/our-courses/apprenticeships/ . If you are an employer who is interested in working with BMet to deliver apprenticeships to our students, please visit: https://www.bmet.ac.uk/employers/apprenticeships-for-employers/