Windrush Day – Monday 22nd June
Who are the Windrush generation?
The 'Windrush' generation are those who arrived in the UK from Caribbean countries between 1948 and 1973. Many took up jobs in the nascent NHS and other sectors affected by Britain's post-war labour shortage.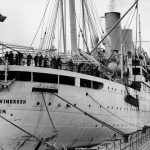 The name 'Windrush' derives from the 'HMT Empire Windrush' ship which brought one of the first large groups of Caribbean people to the UK in 1948. As the Caribbean was, at the time, a part of the British commonwealth, those who arrived were automatically British subjects and free to permanently live and work in the UK.
What is the Windrush scandal?
The Windrush scandal began to surface in 2017 after it emerged that hundreds of Commonwealth citizens, many of whom were from the 'Windrush' generation, had been wrongly detained, deported and denied legal rights. Coverage of these individuals' stories began to break in several newspapers, and Caribbean leaders took the issue up with then-prime minister, Theresa May.
There was widespread shock and outrage at the fact that so many Black Britons had had their lives devastated by Britain's deeply flawed and discriminatory immigration system.  Click here for a short film.
Want to find our more?
Here is some suggested viewing;
Video from The Guardian
BBC iPlayer – "Sitting in Limbo" & The Unwanted (The Secret Windrush files)
ITV Hub – David Lammy *(a key person from the beginning) and his exchange with Amber Rudd:  and appearance on the Andrew Marr Show
Windrush Day Organisation – the official website that contains a range of  videos/articles and information on the Windrush Generation.