Interview with an apprentice
To mark the 12th National Apprenticeship Week, one of our employers invited us into the workplace to interview some of our apprentices to see how they are getting on, what inspired them to apply for one and any advice they have for budding apprentices.
adi founder and CEO Alan Lusty created a pre-apprenticeship work experience programme to give budding apprentices a taste for what life as an apprentice is like.
Alan started his career as an apprentice so understands the importance of them and the positive life changing benefits that they can bring.
Paul McCalla from the BMet apprenticeship team was our roving reporter and this is what he discovered….
First a little bit about the employer….
adi Group
With over 30 engineering divisions they are multi-disciplined spanning numerous markets.
Their expertise and customer focused approach allows them to better understand their customers businesses to consistently deliver innovative and creative engineering solutions.
adi covers a wide-range of engineering disciplines to suit all business requirements. Their current service offering encompasses; Building & Refurbishment, Electrical, Engineering Compliance Management, Environmental, Maintenance, Manufacturing Automation & Information Systems, Mechanical, Project Management, System Efficiency, and Utilities Systems.
adi started Pre-Apprenticeship programme in 2016 for 14- 16 years to experience engineering. This offers awareness & a gateway to inspire young people into engineering. The pre-apprentices become an extension to the main adi team.
The Interviews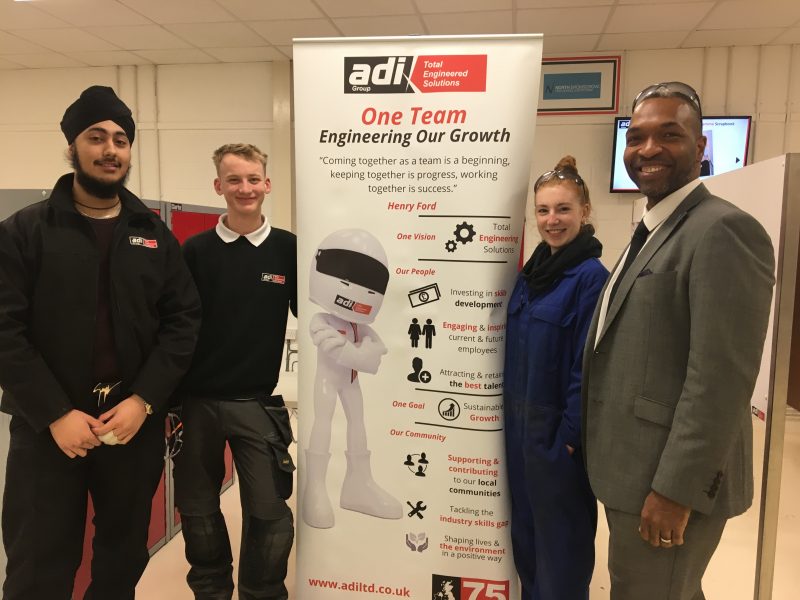 Raja D – Mechanical – Welding and Fabrication Apprenticeship
Why engineering?
"I've loved engineering from a young age – it's always been fascinating to me."
Why an apprenticeship?
I wanted to combine education and employment so an apprenticeship was an ideal move."
Joshua B –Electrical Engineering Apprenticeship
Why did you choose an apprenticeship?
"I wanted to get into a job straightaway and learn more and acquire new skills in electrical engineering."
How do you choose this apprenticeship?
"I attended an apprenticeship taster event on mechanical and engineering and I was hooked!"
What do you enjoy the most?
"I enjoy completing my own control panel, testing & getting it to work"
What piece of advice would you give to budding apprentices?
"Make sure that you do the research so that you can be confident in the choice you are making."
Abbie B – Welding & Fabrication Apprenticeship
Why did you choose an apprenticeship?
"It's a hands-on job which plays to my strengths."
Why did you choose engineering?
"I like the idea of making something for someone else to use to make a positive impact."
What are your daily duties?
"It's really varied and involves practicing welding, measuring & cutting metal, carrying out small projects, like making frames."
What do you enjoy the most?
"For me it's the welding and putting pieces together into a final product."
What are your thoughts on women in engineering?
"I think that it's a really good and I hope that more and more women get into this field. I think that people respect women who enter a traditionally male dominated field."
What piece of advice would you give to budding apprentices?
"Definitely look it up first, research what it's about, and then give it a go!"

Click here to view all of our apprenticeship programmes