Holocaust survivor inspires BMet students and staff through captivating virtual talk
Students and staff at BMet College were inspired by a captivating informative and biographical virtual talk from Holocaust survivor, Harry Spiro, this week.
The thought-provoking event took place as part of the college's enrichment activities, to highlight and recognise Holocaust Memorial Day.
27 January (1945) marks the anniversary of the liberation of Auschwitz-Birkenau, the largest Nazi death camp, where more than one million people were brutally murdered by Nazi Germans. Also known as the Shoah, the Holocaust is often identified as the World War II genocide of European Jews.
Ninety-one-year-old Harry, who was joined by his daughter Tracy Moses and his facilitator, shared his emotive and personal experiences of being in the camp with the help of his daughter.
Harry, born in 1929 in Poland, is a member of the Holocaust Educational Trust (HET), which is a national organisation that enables survivors to share their stories and testimonies with a wide range of people. Even though he was only 10 years old when Germany invaded Poland in 1939, Harry's memories are still firmly etched in his mind.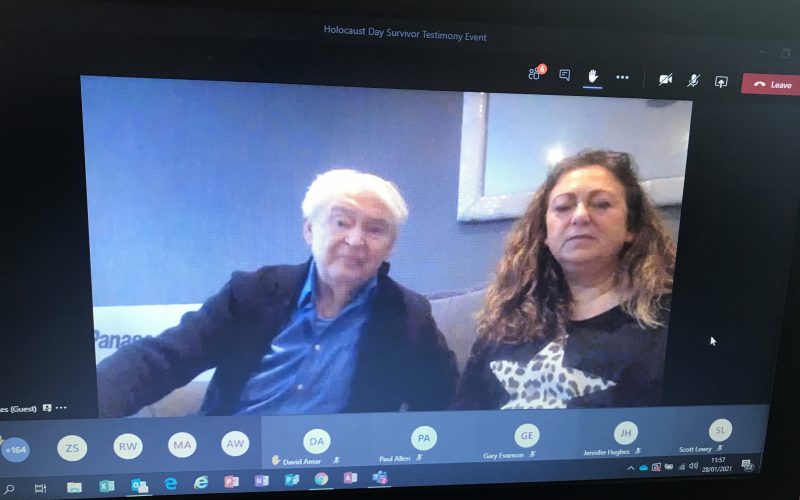 Speaking about her father's experiences, Tracy said: "I'm proud to be a second-generation speaker. By carrying on my father's story, I can help to ensure that nothing like this happens again.
"Humans aren't born to hate each other, it's something we learn. Teaching the youth about what hate can lead to if left unchecked, is a great way to create a world where we are more accepting of one another."
The unique and interactive college event included a captivating presentation and a Q&A session with Harry, that enabled attendees to learn more about Harry's life and to explore the impact of the Holocaust in more depth.
The importance of remembering and raising awareness of the significant historical occurrence was also highlighted. To reinforce the importance, tutors across all the curriculum areas at James Watt, Matthew Boulton and Sutton Coldfield colleges were sent informative educational packs and various communications for their students about the Holocaust prior to the talk.
Cliff Hall, Principal at BMet said: "I alongside students and staff across all our colleges feel truly humbled and privileged to have had the opportunity to hear from a Holocaust survivor, who could let us know about his own unique and challenging experiences in such a heart-felt way and in his own words.
"Hearing from Harry has not only been inspirational in showing his resilience and personal coping strategies whilst facing such adversity, it is also a source of encouragement to try to help us keep strong during challenges such as the current coronavirus pandemic."
The online talk, which attracted nearly 200 participants, was part of HET's extensive year-round Outreach Programme, which is available to schools across the UK.
Karen Pollock, MBE, Chief Executive of HET said: "The Holocaust Educational Trust educates and engages students from across the UK, from all communities, about the Holocaust and there can be no better way than through the first-hand testimony of a survivor.
"Harry's story is one of tremendous courage during horrific circumstances and by hearing his testimony, students will have the opportunity to learn where prejudice and racism can ultimately lead.
"At the Trust, we impart the history of the Holocaust to young people, to ensure that we honour the memory of those whose lives were lost and take forward the lessons taught by those who survived."
To find out more about Harry story, please visit HET's website: https://www.het.org.uk/harry-spiro-bem