BMet Unlocked
A message from our Principal Cliff Hall:
Due to the ongoing situation with COVID-19 and the national closure of schools and colleges, BMet college buildings remain closed for the summer term and teaching continued remotely.
We have though been busy preparing to re-open safely and have put several safety measures in place.
We have done all we can to make it a safe environment for staff and students and visitors to BMet.
Our priority is in ensuring all those coming into college feel safe.
As part of the preparations for a wider reopening, we were able to invite small numbers of students on site to allow them to complete end of year assessments.
Please click here to read the results of a survey of those returning students who all overwhelmingly said that the return to college was a positive experience.
We have developed a student guide and three short films on the measures we have put in place on social distancing;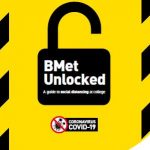 Click here to read our BMet unlocked guide.
Health and safety is a central consideration of our reopening plans and our short guide outlines the measures we are putting in place which include: safe social distancing arrangements, cleaning and sanitisation, guidance on face coverings, public transport and car parking.
Enrolment 2020
Over the summer we will start the enrolment of new and returning students.
Enrolment in the summer of 2020 will be predominantly online or via the telephone to ensure we can enrol large volumes of people in a safe way.
We are looking forward to welcoming new and returning students in September – this will be via a combination of online teaching and in the classroom.
Our curriculum teams will be in contact with all students once enrolment is complete to outline teaching in the first term.
Cliff Hall, Principal
We have put together some FAQs to help give guidance and support, click here for more.
Information for students expecting GCSE, AS or A level results in summer 2020.