BMet students see early screening of BBC 3 Documentary on eating disorders by Zara McDermott
Students across BMet's Matthew Boulton and Sutton Coldfield Colleges experienced an early viewing of Zara McDermott's BBC "Disordered Eating" documentary this week – ahead of the official public airing on 22nd November.
The screening by the Young Reporter Team at BBC 3, allowed students to explore the effects of social media's impact on eating disorders. It focused on Zara giving an honest and personal insight into her online activities which alongside other celebrities, could have a negative impact on some of her followers.
Zara is known for being an ex-contestant on popular dating show, Love Island and is now widely recognised as an influencer.
Through the documentary, Zara was seen discussing the challenges and issues that some people face including experiencing mental health issues like anorexia and how her before and after pictures, diet plans and revealing photographs could be detrimental.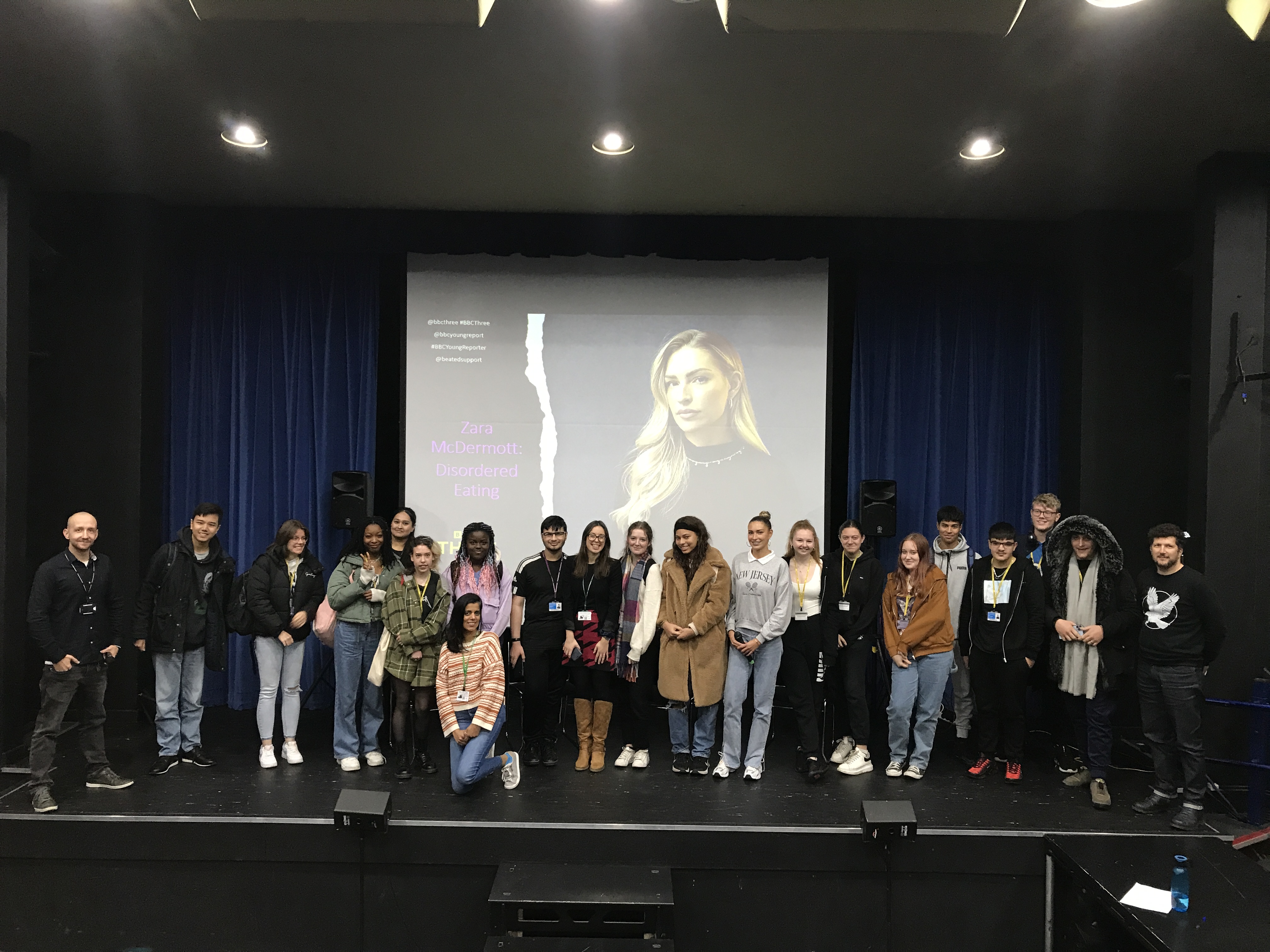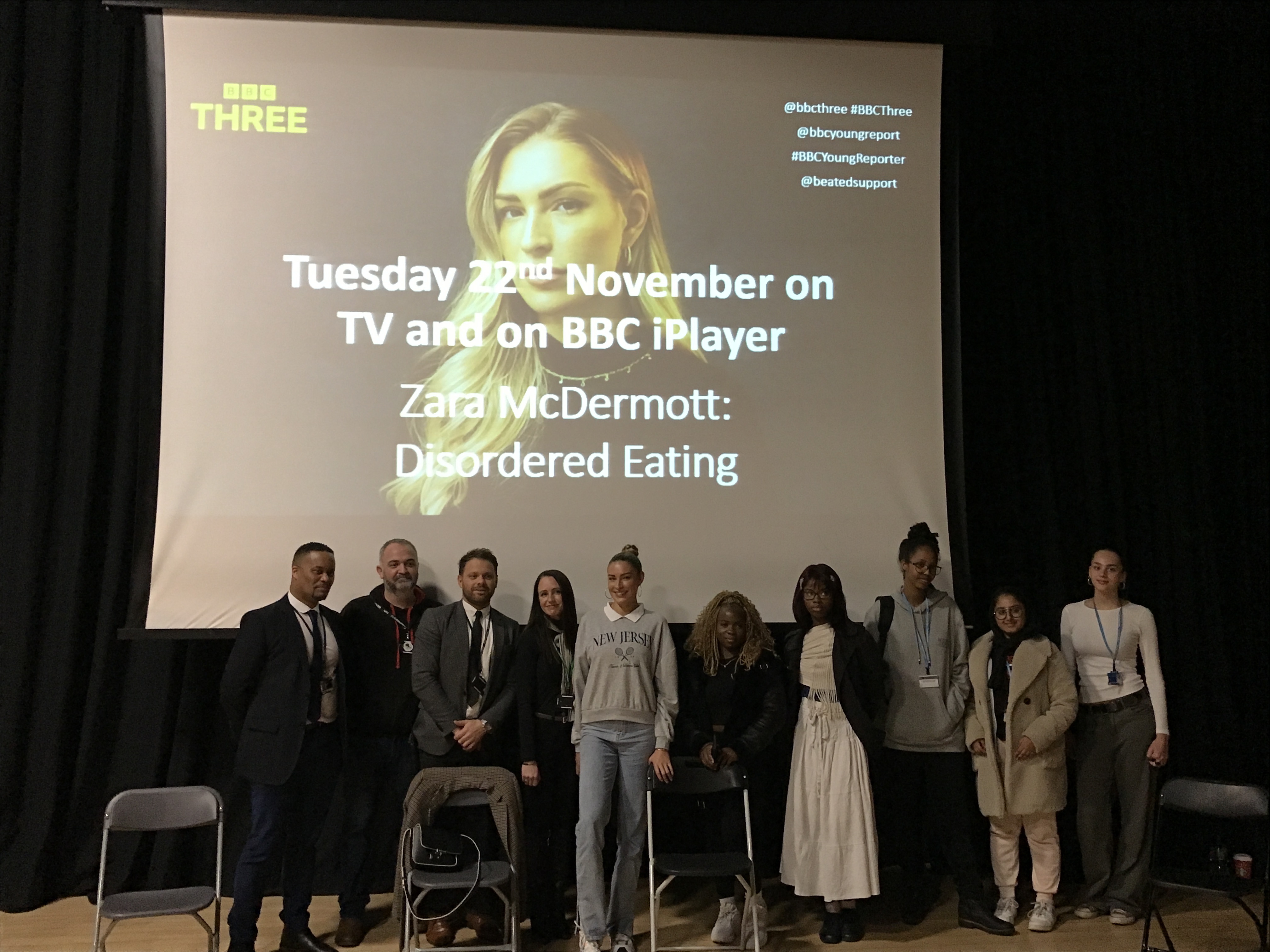 Speaking about their thoughts of the screening, this is what the following students at BMet had to say:
Abdulahi – "I was unaware about such issues and the documentary was a huge eye opener to the struggles of people dealing with various issues that could be heightened by social media. As a male, I feel that my knowledge was even more limited on the subject matter."
Lucy – "I feel that the documentary was very well thought out and clearly highlighted the negative effects that social media can have on a person's identity and wellbeing. The more people become aware of negative aspects of social media, the better."
Mike – "For me, the documentary highlighted that people need to be more sensitive and considerate of their behaviours on social media, as it could negatively affect people of any gender."
Disordered eating, as described by eating disorder charities, will look different for everyone but may include undereating or overeating, excessive exercise, focusing more on appearance and anxiety around mealtimes, amongst other things.
Zara said: "I feel honoured to be making my third documentary with BBC Three and bringing visibility to this complex subject. The stats regarding eating disorders are shocking and I'm keen to explore reasons behind the rise.
"While I use my own social platform to share my personal lifestyle, I am keen to understand more about this topic and the impact of social media to educate both myself and others on how we can all do better and be more aware of our digital output. Crucially, I hope this film brings wider awareness and understanding to something that severely affects children and young adults."
After the screening, students were invited to take part in a special Q&A with Zara and guests Sukhi Nagra, Event Producer at the BBC, representatives from BBC 3 and eating disorder charity Beat.
There was also an interactive discussion about the production process with Zara and the production team, as well as talking about eating disorders which was supported by the charity Beat.
The Disordered Eating documentary will be broadcast on BBC Three and BBC iPlayer on Tuesday 22 November at 9pm.
The early screening is part of a tour to give young people an opportunity to watch the documentary before it's broadcast – giving them their own personal, exclusive screening. The purpose is also to help raise awareness of eating disorders which are on the rise.