BMet Alumni award recognises Abigail's commitment to education and the NHS
A former BMet sports science student is the proud recipient of an award given to recognise a longstanding commitment to her education and profession.
Abigail studied an extended diploma at Sutton Coldfield College and is now a qualified physiotherapist. She received an Alumni award as part of this year's Virtual Higher Education Graduation Ceremony last week.
The celebration evening rewarded current and former higher education students, alongside their families and BMet curriculum teams.
Abigail received the award for displaying compassion, professionalism and resilience during her studies, which has followed on throughout her work within the NHS.
Furthermore, she dealt with coming straight out of university and going into the NHS, at what could possibly be the most demanding time ever.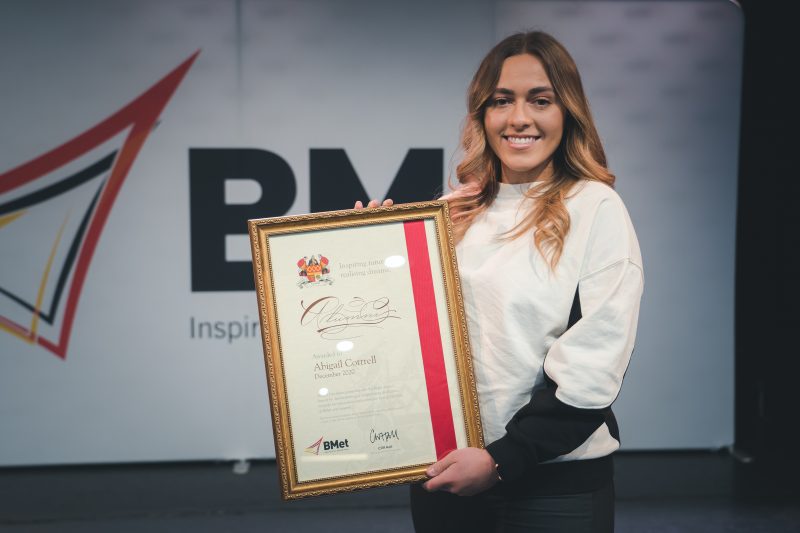 Speaking of her award win, Abigail said: "It is a great achievement to be recognised for all my hard work, dedication and achievements. I have fantastic memories during my time at BMet, which I have carried forward to my role as a physiotherapist."
The successful completion of a Level 3 Extended Diploma in Sports Science at the college in 2017, led Abigail to study Physiotherapy at Manchester Metropolitan University. She then embarked on a challenging yet rewarding, role as a physiotherapist on a COVID-19 Ward at Walsall Manor Hospital.
During the initial lockdown, Abigail also put herself on the NHS temporary register to help the NHS during the peak of the pandemic.
Alongside this, Abigail gained a three-month placement on a Trauma and Orthopaedic ward at Walsall Manor Hospital. Due to her success, she was later given a permanent position at the hospital.
To read more about the BMet 2020 Higher Education Awards click here.