Alumni award recognises Natalie's successful BMet career journey
A former student and current employee at BMet has received a special award to officially recognise her positive contribution and progression at the college.
Natalie Alleyne was presented with an Alumni Award at the college's graduation event, held at the Royal Birmingham Conservatoire on Wednesday 18 December 2019.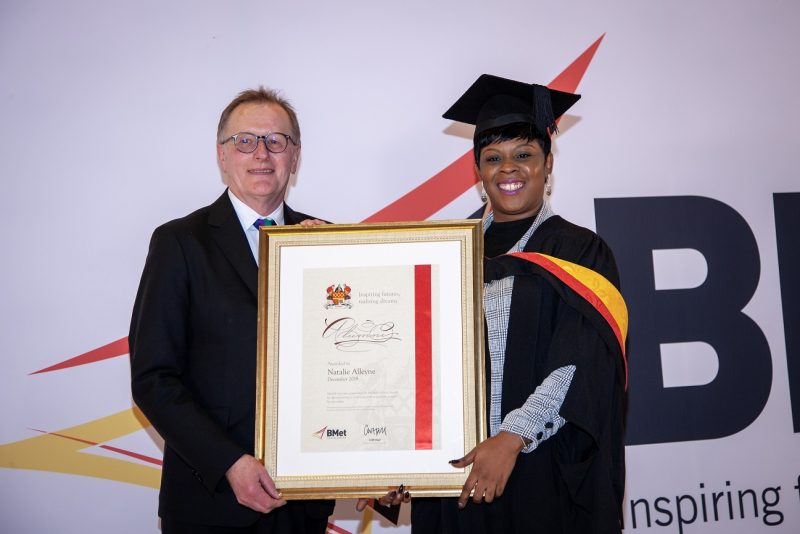 She was rewarded for continually demonstrating a passion for education throughout her varied and successful career advancement path.
Natalie's BMet journey began in 2009, when she studied and successfully completed an undergraduate credit in Post Compulsory Education, followed by a PGCE Professional Development Work Placement in 2013.
Natalie is currently gaining success in her roles as a Progress Learning Coach and a BAME (Black and Minority Ethnic) Network Chair and she is involved with the college's supported leadership programme.
Her previous job roles at BMet have ranged from being an exam invigilator to a lecturer in Aviation, Travel and Tourism and Functional Skills English and Maths.
Speaking at the ceremony, Natalie said: "I feel honoured, overwhelmed and really emotional today – in a really positive way!
"It is exactly 10 years to the day that I started at BMet and it will soon be the start of a new decade, so my award signifies a very important milestone in my life. I hope that I can show others that you can accomplish anything, if you put your mind to it!"