Coronavirus FAQ's
Whilst the college is closed and you are studying remotely, we have put together some FAQs to help give guidance and support.
There is a national report focussing on the response of young people across the UK to Covid-19.  The report has been produced by Beatfreeks a local youth agency who often come into college to work with students.   You can click here to read the report.
We will update our Coronavirus page as soon as we have any further information.
How exam results will be awarded this summer
For the latest information on how assessments will be made this year, please read the following documents:
We will share more information as it becomes available from awarding bodies.
How your qualifications are awarded this summer from ofqual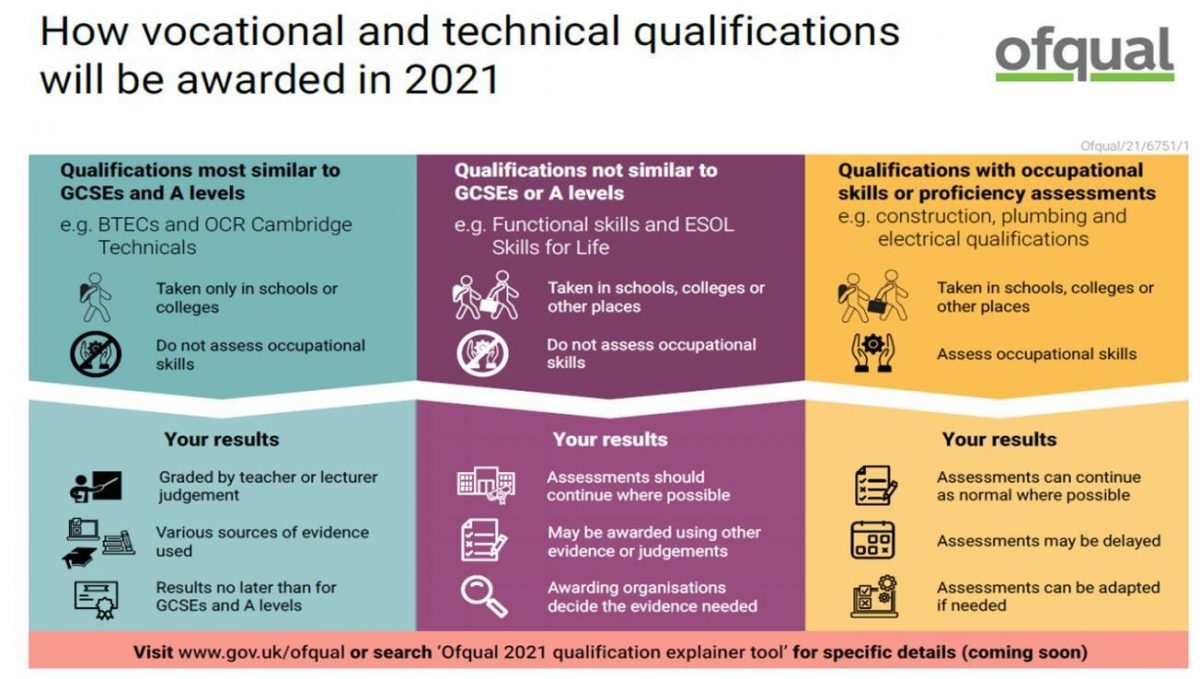 Translated advice and guidance
We want to ensure that as many people as possible can access the latest advice and guidance on COVID-19.
Please click here to a link to the Doctors of the World website that translates COVID -19 guidance into 60 languages.
How will I complete my studies if the college is closed again?
Tutors will be in direct contact with students to provide learning tasks, feedback and support.  Please do speak to your tutor in the first instance, who will be able to advise about arrangements in your area.
The Department for Education coronavirus helpline is also available to answer questions regarding education. Students and parents can contact 0800 046 8687 (opening hours 8am-6pm Mon-Fri) for advice.
Will I still be able to call the college?
Yes! You can reach us on 0121 446 4545, where our team will be happy to help.
Alternatively, you can use our Live Chat option directly from the BMet website.
The opening hours of the call centre are:
Monday – Thursday 9.00am-5:00pm, Friday 9.00am-4.00pm.
Can BMet students still get welfare support?
We will continue to support our learners through the provisions of a counselling and mentoring service remotely.
All learners currently on caseloads/waiting list are being contacted and advised how to access support remotely.
Our support teams can also be contacted via email;
Mentoring@bmet.ac.uk
Counsellors@bmet.ac.uk
Click here for the NHS mental health support offer during COVID-19.  For urgent or out of hours support, click here to access the details of several service providers.
Can I get a refund on my course?
We are doing our best to carry on delivering our courses at a distance and have every intention of delivering new courses as soon as possible.
However, we will keep this under review and take guidance from the Department of Education and we will consider refunds on a case by case basis.  
How will you manage safeguarding?
BMet has a duty to protect and promote the welfare of children, young people and vulnerable adults receiving education and training at our colleges.
We are committed to the highest standards in protecting and safeguarding at all times. BMet promotes a culture of vigilance where all of our staff know their responsibilities and act accordingly, and all learners are aware of what they can expect and what to do if they have concerns.
 We will continue to support and protect our students while the college buildings are not operational.  Our dedicated web page has the contact details of our safeguarding contacts.
How can I continue to access bursary payments?
BMet have put in place the following arrangements to those in receipt of bursary payments:
Students who usually receive a meal allowance will have a transfer into their bank account on a fortnightly basis.
Students in receipt of the vulnerable bursary will continue to receive the payment fortnightly.
Anyone who has not had their payment should email studentfinance@bmet.ac.uk.
If you require further information you can contact ask@bmet.ac.uk
My NXBUS MTicket app says, "Session expired"?
You will need to log on and re sync your ticket wallet to use your travel pass.
Follow this process to log on
I've forgotten my NXBUS MTicket app password, what do I do?
Follow the steps below to re set your password.
Click on 'forgot my password'
Enter your college email address
A password request will be sent to your college email account
Open your college email, check your inbox, trash and spam for an email from mticket@nationalexpress.com
Click on the link within the email to reset your password
Enter your new password
Return to the mticket app login page, enter your college email address and the new password.
My Swift card doesn't show my travel pass?
You'll need to ensure that your travel product has been downloaded to your swift card.
Top tip – ensure you have a good internet connection and your device has Near Field Communication (NFC) enabled and that your NFC is switched on.
Follow this process to download your travel pass
Download the 'Swift collector app' on to a smart phone
Once installed, place your swift card on the top half of your phone (the card can be scanned from the front or back of your phone).
Leave the swift card on the phone for a minimum of 10 seconds. This will help the Swift Collector to read your card.
The product will then download to the Swift Card.
Can I still get careers advice?
In addition, we will continue to offer our learners careers advice remotely and the careers team can be contacted via email Careers@bmet.ac.uk
I haven't applied to BMet yet – is it too late?
It's not too late to apply & enrol!
Applications to BMet are completed via our website.  You can apply anytime. View our courses here.
All applicants will now pre-enrol online for courses starting between January – February.  We will send a formal offer by email with further details on their application including how to accept the offer.
We are looking forward to you starting with us.
Can you help me with my application?
Yes! If you have any questions on the course you have applied for – you can call us for help and guidance.
You can call us on 0121 446 45 45.  Our contact centre is open – Monday – Thursday 9:00am-5:00pm, Friday 9:00am-4:00pm.
I'm not sure on the status of my application?
Don't worry – If you are unsure if you have applied, started your application but not finished or have any questions do contact us and we will be happy to help.
Also, if you have any questions on the course you have applied for – you can call us for help and guidance.   We also have some exciting virtual events planned for applicants. Watch this space!
You can call us on 0121 446 45 45.  Our contact centre is open – Monday – Thursday 9:00am-5:00pm, Friday 9:00am-4:00pm.