Coronavirus Update
11 March 2022
Updated Covid Guidance
The college is continuing to do all we can to stay Covid-secure and is following the latest advice.
Covid Precautions
BMet will continue to support Public Health Authorities and will respond to any local changes, if necessary.
Enhanced cleaning across all college sites will remain in place and we will support anyone who wishes to wear a face covering in college, if that makes them feel more comfortable.
Please continue regular and thorough hand washing; this and the 'catch it, bin it, kill it' approach is still very important.
What to do if you develop COVID-19 symptoms or has a positive test:
Students should not come into college if they have symptoms, or have a positive test result. They should stay at home due to the risk of them passing on COVID-19 and follow public health advice on When to stay at home
If anyone develops COVID-19 symptoms while at college, however mild, they should be sent home and advised to get a PCR test and follow public health advice.
Anyone with a positive test result should stay at home and follow the latest guidance on  When to stay at home and report their results to college.​​​​​​​
If you have COVID-19, you should stay at home while you're infectious to others. This can be for up to 10 days from when your symptoms start. Many people will no longer be infectious to others after 5 days.
You can do a rapid lateral flow test from 5 days after your symptoms started (or the day you had the test if you do not have symptoms) and another the next day. If both tests are negative and you do not have a high temperature, you're less likely to pass COVID-19 to others and you can go back to your normal routine.
If your test result is positive on day 5, you can carry on doing rapid lateral flow tests every day until you get 2 negative test results in a row.
If you live with, or have stayed overnight in the household of, someone who has COVID-19.
If you live with, or have stayed overnight in the household of someone who has COVID-19 you are advised to:
minimise contact with the person who has COVID-19
work from home if you are able to do so, this should be discussed with your line manager
avoid contact with anyone you know who is at higher risk of becoming severely unwell if they are infected with COVID-19, especially those with a severely weakened immune system
limit close contact with other people outside your household, especially in crowded, enclosed or poorly ventilated spaces
wear a well-fitting face covering made with multiple layers or a surgical face mask in crowded, enclosed or poorly ventilated spaces and where you are in close contact with other people
pay close attention to the main symptoms of COVID-19. If you develop any of these symptoms, order a PCR test. You are advised to stay at home and avoid contact with other people while you are waiting for your test result
Follow this advice for 10 days after the day the person you live or stayed with symptoms started (or the day their test was taken if they did not have symptoms).
Young people who usually attend an education or childcare setting and who live with someone who has COVID-19 should continue to attend the setting as normal.
If you are a contact of someone with COVID-19 but do not live with them or did not stay in their household overnight, you are at lower risk of becoming infected, you should continue to attend college as normal and carefully follow the guidance on Coronavirus: how to stay safe and help prevent the spread.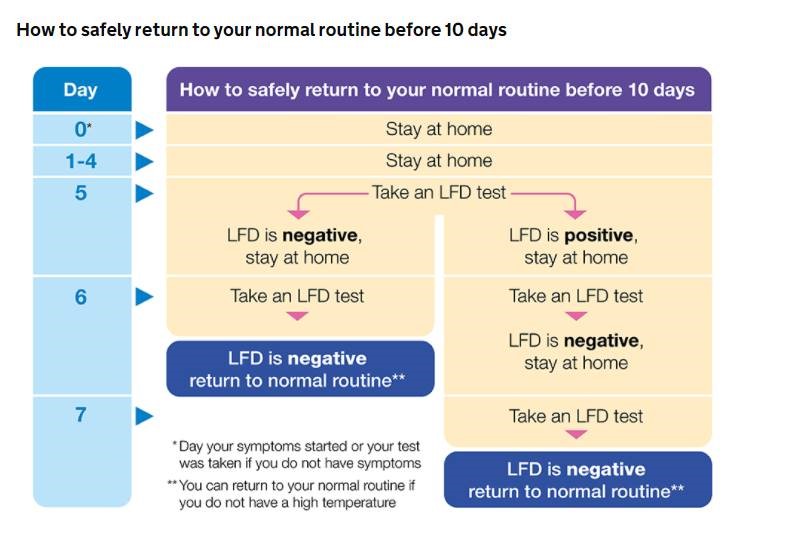 Further information
If you have any concerns about your health you should use the NHS 111 website initially, or if you have no internet access then contact the free NHS 111 telephone helpline. Check the NHS website for the latest official advice.